Prince Harry's love affair with Chelsy Davy is going from strength to strength. The couple will celebrate their three-year anniversary with a romantic trip.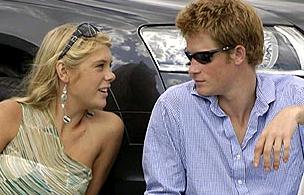 Chelsy, 21, is living in a flat in London's Hyde Park with her brother Sean and friends say she plans to spend the rest of the summer in the UK.
She is said to be so delighted to be reunited with 'Haz', as she affectionately calls the 22-year-old Prince, that she is planning the holiday as a surprise for him.
A mutual friend revealed, "Chelsy intends to whisk Harry away for some fun in the sun. They couldn't be happier together."
Chelsy recently gave Prince Harry a watch to mark their anniversary and she may take up a place at Bristol University in September so they can be close.
They had been rumored to be on the verge of splitting after reports that Prince Harry had been unfaithful while on Army training in Canada.
But a friend said, "They are closer than ever. She spent a lot of time and money choosing a beautiful watch for him as an anniversary present. Chelsy is tough and won't take any stick from him. But she knows that a lot of stories about him flirting with girls are exaggerated."
Comments
comments