Chelsy Davy spent the evening – and most of this morning – in Whisky Mist in Mayfair and Raffles in Chelsea.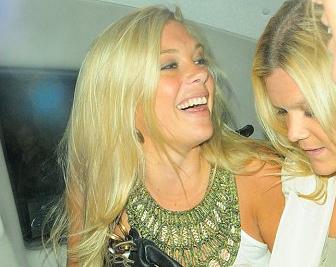 Despite a taxing shift of drinking and dancing with a number of different guys, the Zimbabwean blonde beauty looked remarkably chipper when she finally called it a day at 5am and headed off home with a male pal.
The night started respectably enough as Chelsy and her chums arrived at Whisky Mist, and were immediately whisked into the VIP section.
As the drinks flowed and everyone started getting into the spirit of things, Chelsy hit the dance floor – especially getting into it when Beyoncé's Single Ladies came on.
A source revealed: "Chelsy was having great fun in the VIP room but she soon went out into the main dance floor because that was where her friends were."
The source continued: "She was dancing to Beyonce's Single Ladies and Stevie Wonder's Superstition and was really going for it. She was shaking her booty against another female and male friend and was singing along to the tracks."
The source added: "At one point she stood by the bar and was talking to a male pal but then went back to her friends. She was drinking champagne for most of the night but managed to keep a level head."
Chelsy then decided to move her party onwards, settling the bar tab – which had topped £2,000 – and heading off to Raffles nightclub in Chelsea, where the drinking and dancing continued until the wee hours this morning.
Despite boogying with blokes all night, reports suggest that Chelsy might soon be back in the arms of her royal ex Prince Harry.
Insiders say that the pair have been keeping in touch via emails and texts, leading many to believe that they are to reunite after months apart.
Comments
comments