Detectives investigating the death of Michael Jackson are looking at his prescription drug history and trying to talk with his numerous former doctors, the Los Angeles police chief said.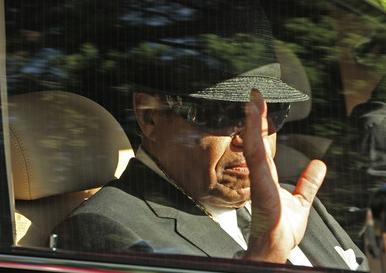 Jackson's father, Joe Jackson, told ABC News in an interview that he believed "foul play" was involved in his son's death. But in the interview aired Friday on "Good Morning America," Jackson did not elaborate.
Los Angeles Police Chief William Bratton told CNN that police are waiting for the coroner's report before ruling out any possibilities in their "comprehensive" investigation into the sudden death of the 50-year-old pop star two weeks ago.
The coroner's report will determine the cause of death and hinges on time-consuming toxicology tests.
"Based on those we'll have an idea of what we're dealing with," Bratton said Thursday. "Are we dealing with homicide? Are we dealing with an accidental overdose? What are we dealing with?"
Bratton said detectives are gathering evidence, including items seized from Jackson's rented home and arranging interviews with his many physicians, but the police chief deferred to the coroner to determine the cause of death.
"The next move really is his," Bratton said. "We're not marking time waiting for his report."
The Drug Enforcement Administration and the state attorney general's office, which keeps a database of prescription drugs, are assisting investigators.
Joe Jackson said he didn't know anything about drugs his son was involved in.
"I don't even know the name of them," he said. "I do know that whatever he was taking was to make him rest because he had been working so hard."
Meanwhile, the elder Jackson praises Michael's daughter Paris, saying that he believes the young girl wants to do something in Hollywood show business.
"I don't know – I keep watching Paris," he said in a statement, before then adding, "She … wants to do something." Joe, moreover, also has his eyes on Prince Michael Jackson II a.k.a. Blanket, revealing "As far as I can see, well, they say Blanket, he can really dance. That's what they're saying. He can really dance." Joe, however, made no mention of Michael's eldest son, Prince Michael Jackson Jr.
On the same interview, Joe was asked about whom he thinks should get the custody of Michael's children, and his response was, "The grandmother, Katherine, and I. There's no one else to do what we can do for them. We should keep them all together and make them happy. And feed them like they're supposed to be fed. And let them get rest … and grow up to be strong Jacksons."
Comments
comments