Chelsy Davy has tried to win back Prince Harry—by inviting him on a student pub crawl.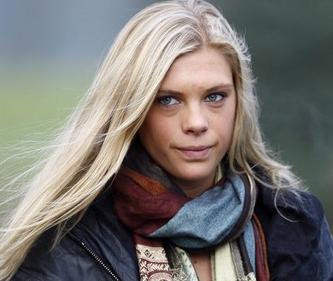 The blonde beauty, who dumped Harry in January, panicked over reports he had been flirting with Natalie Imbruglia last week.
The fun-loving Zimbabwean student, studying for a post-graduate degree at Leeds University, has asked Harry to join her and her pals on the infamous Otley Mile pub run next month.
Chelsy, who will be celebrating her impending graduation, believes the boozy evening will be the perfect opportunity to re-introduce Harry into her life publicly.
The pal said: "If you're a student in Leeds, this is one of the biggest events on the social calendar. You don't just take anyone. Chelsy really wants Harry to be there and for them to be seen as a couple again. She's missed him more than she thought she would."
Up until now she has been acting off hand with the 24-year-old prince in the hope it would drive him wild with desire.
But her antics—including shunning his offer of a Valentine's Day date—seem to have had the opposite effect, and driven him away.
A close pal said: "He's started to show an interest in other girls, and Chelsy's feeling worried about their future together. She's decided the time is right for her to make a big play to get him back. When they split up Chelsy was determined they'd spend a good stretch of time apart before even considering trying again to make things work. But she's found that's a lot easier said than done."
Two months ago we exclusively revealed how Chelsy told the Prince their five-year relationship was over in a series of tearful phone calls.
She then upset Harry by announcing their split on the page of her Facebook social networking website.
Last week, he reportedly struck up a flirty friendship with stunning Aussie pop starlet Natalie, 34, who is newly divorced.
Harry told Chelsy there was nothing going on with Natalie. But our source said: "Chelsy was jealous. Her biggest worry has been what would happen when Harry found another girl. It would be a bitter pill for her to swallow and she's not ready for it. She now thinks she may never be ready for it."
Harry hasn't decided whether to accept Chelsy's invitation.
Royal aides worry it would look bad for him to be snapped boozing on a pub crawl when he is meant to be keeping out of the spotlight.
But our source said: "Harry would love to go. That doesn't mean he's going to run back into her arms. However he does want to see her, and it's an event he would love."
Harry and Chelsy—who is starting her full-time legal career with London law firm Allen & Overy when she graduates—have been in regular contact with each other in the last few weeks.
The Prince even asked if she would spend Valentine's Day with him. But our source said: "She was playing hard to get and acting as if she wasn't bothered by what he was up to, so she rejected his invitation. She was trying to make Harry want her more by acting aloof and not arranging to see him—but now she's decided that's backfired. She loves him and has realized that she will have a lot of competition, so she will have to do something very soon to get him back."