Clay Aiken is finally came out of the closet as he confirmed what many people already knew: He is gay. He was in the cover of the latest issue of People magazine, which shows the former "American Idol" runner-up with his son and his Ellen-inspired admission "Yes, I'm Gay."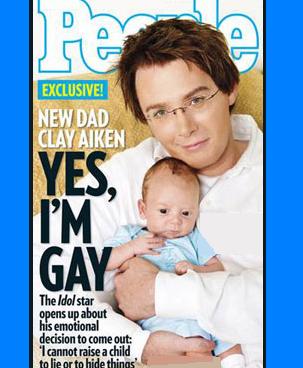 The former "American Idol" runner-up, who is holding his infant son Parker Foster Aiken in the magazine cover, was quoted as saying: "I cannot raise a child to lie or hide things."
The magazine has an interview with Aiken and confirmed that he was on the cover but refused to release the article until Wednesday.
The baby's mother is Clay Aiken's friend and record producer Jaymes Foster.
Clay Aiken, who gained fame as the runner-up on "American Idol" in 2003, rarely addressed the frequent rumors about his sexuality. In an interview with a newspaper two years ago, he revealed: "I don't really feel like I have anybody to answer to but myself and God and the people I love."
He even had lashed out at Diane Sawyer during an interview just over two years ago when she asked about rumors of his sexuality. The singer told Diane: "At some point it becomes really rude. I don't understand why you want to know. I don't know why it's any of your business."
He felt that constant questioning of his sexuality in the tabloids had affected him deeply, saying: "Even though stuff about me that I read in the magazines isn't true, it still makes me lose sleep. I hurt, not just for my mother who has to watch it happen and who hurts for me. At least when I was in middle school … I understand why they picked on me."
Clay Aiken had also refused to come out of the closet in an interview done the same week as his sit-down with Diane Sawyer. He reacted: "What do you say? It's like when I was 8. I remember something would get broken in the house, and Mom and Dad would call me in and say, 'Did you do this?' Well, it didn't matter what I said. The only thing they would believe was yes. People are going to believe what they want."
As for his singing career, the multi-platinum singer recently released the CD "On My Way Here" and made his Broadway debut this spring in "Monty Python's Spamalot."
Clay Aiken isn't the first celebrity to come out today. After months of speculation, actress Lindsay Lohan finally divulged that she is dating DJ Samantha Ronson.
Another report also considers the reaction of Clay Aiken's fans or Claymates. What are the Claymates going to do now since anything about Clay's personal life would attract comments. These comments include that Clay Aiken was their straight knight in shining armor. Perhaps his most conservative fans contributed to his fear of coming out earlier in his career.
Comments
comments