Princess Beatrice got in a bit of a tizz in London last night and completely forgot about her hired help, leaving them behind as she tried to hail a black cab home.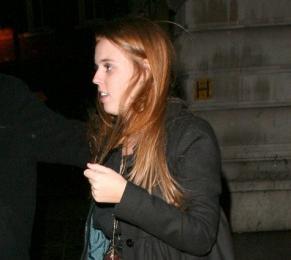 It's perfectly reasonable to assume a night of partying may have had something to do with her making such an embarrassing mistake.
Beatrice, 20, had been in Cuckoo Club in Mayfair, and emerged at 1.15am looking a little bit bewildered.
An onlooker said: "[Princess] Beatrice looked dazed and confused when she left the club. Her security team thought she was with them but she wandered into Regent Street and tried to hail a cab."
The onlooker added: "A security officer had to find her and tell her that she had a car waiting near the club, so she followed him to it."
The fifth in line to the throne has not been going out much recently as has upcoming exams at Goldsmiths University, but clearly took a night off for a family birthday party.
The young Royal was with her sister Eugenie, 18, to celebrate their cousin Ayesha Makim and her boyfriend Steve Wood's joint birthday party.
Ayesha, who will turn 23 next week, moved from Australia in 2005 to pursue a modelling career and now lives in Kensington.
An onlooker in the club added: "There was a dinner followed by dancing. There were buckets of champagne and Belvedere vodka on the tables. Both Princesses were getting really into the music and dancing like crazy."
Perhaps Bea was tired and confused by her enthusiasm on the dancefloor.
Comments
comments