It appears Vanessa Hudgens hates being photographed by paparazzi. The "High School Musical 3: Senior Year" beauty is seen hiding her face while visiting Baskin Robbins in Los Angeles, California on Thursday, January 22.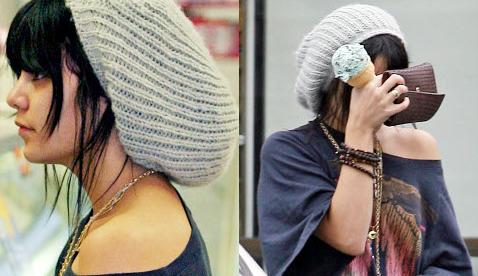 The "High School Musical" star, who was sporting a dark blue top paired with black pants and knit hat, hides her face behind her ice cream cone.
The 20-year-old actress continues to hide her face with the cone as she makes her way to her car.
In related news, Vanessa Hudgens' beau Zac Efron reportedly got attention from Megan Fox at the Globes after-party on January 11.
An eyewitness revealed: "The spark between Zac and Megan was obvious to anyone there. There were times when they seemed lost in conversation together, while Vanessa stood by like a sulking little girl. Vanessa is lovely, but Megan is considered one of the hottest women on the planet."
Comments
comments