Adam Lambert wears eyeliner and diamond stud earrings, sings like a dream and has won a rare standing ovation from tough-minded judge Simon Cowell.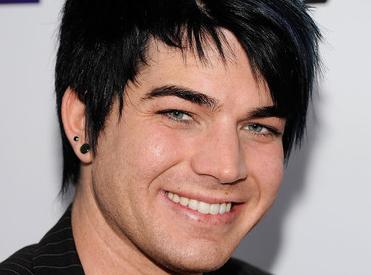 With three weeks to go before the "American Idol" final, Lambert, 27, is favored to win the No. 1 U.S. television talent show and become, possibly, the first gay or bisexual singer to be handed the "Idol" title by millions of Americans.
Lambert, praised by "Idol" judges for taking risks with songs like Cher's "Believe", has never publicly confirmed his sexual preference, nor has he denied speculation about being gay — a striking contrast to 2003 runner-up Clay Aiken.
When photos showing him kissing other men and dressed in drag circulated on the Internet last month, Lambert said simply: "I have nothing to hide. I am who I am."
Lambert ended in the bottom two for the first time on Wednesday night, but viewers have so far shown little sign of caring about his ambiguous sexual orientation.
An army of "Glambert" fans cheer him on, vote for him weekly and have made him the favorite to win.
"Some people are saying, wouldn't it be amazing that in the same year that the first African-American president took office in the U.S., we also elected the first gay and/or bisexual 'American Idol'," said Robert Thompson, professor of popular culture at Syracuse University in New York.
"I don't think that's comparable. Rather than being surprised, I am thinking 'Wow, have we really got this far without having one yet?'"
Gender-bender stars are nothing new in the music business — Elton John, Prince and the androgynous Boy George. Ellen DeGeneres and Rosie O'Donnell are openly lesbian, and while TV stars like Neil Patrick Harris have come out as homosexual, Hollywood awaits its first huge gay male star.
"American Idol" may just give it to U.S. music fans. The show has become a cultural phenomenon in the United States in the last eight years and is as much a popularity contest as a talent show. The audience that averages 26.3 million viewers weekly has shown an openness to embrace everyone from 8 to 80 years old — and it's the viewers who vote to decide who wins.
Aiken, the 2003 runner-up, dodged questions about his homosexuality for five years before publicly acknowledging in 2008 that he was gay.
Lambert, who donned a white silk suit and diamond ear studs for the show this week, is more flamboyant in his dress, vocal style and performances than most — if not all — contestants.
"Idol" judge Kara DioGuardi called him "confusing, shocking, over the top, theatrical — but I like it!"
Comments
comments