Jennifer Aniston, who recently introduced her beau John Mayer, is in a good place, according to Courteney Cox.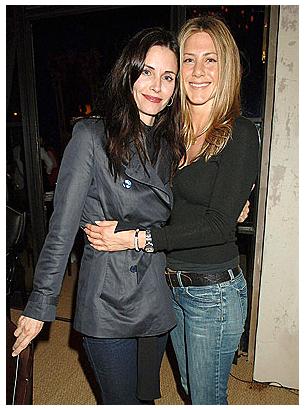 Courtney Cox was seen at the Time For Heroes Celebrity Carnival in L.A. on Sunday. When asked if Jennifer Aniston is happy, Courteney Cox confirmed, "Yeah, she is."
Last weekend, John Mayer and Jennifer Aniston were photographed at the Malibu home of Cox and her husband David Arquette. On Wednesday, John Mayer, Jennifer Aniston and Courtney Cox went out to dinner in L.A.
Jennifer Aniston was back at Courtney Cox's home on Sunday, but this time without the singer.
The celebrity pair started their romance after spending five sexy days together in Miami last April.
Since then, they've been spotted out in L.A. and New York. They famously traveled with Jennifer Aniston and former actor Brad Pitt to the Caribbean in 2005 just a day before the "golden couple" announced their split.
Meanwhile, Courteney Cox's cable television show about paparazzi and tabloid editors in Hollywood, "Dirt," has not been renewed for a third season.
Comments
comments