With a hit TV show, two blockbuster films and an autobiography to her credit, Miley Cyrus has £17million in the bank.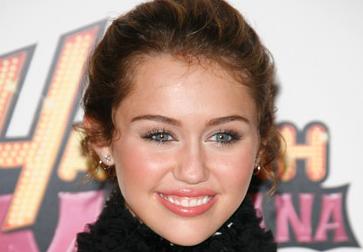 And she is still only 16 years old. With innocent understatement verging on the ironic, she explains that she's had to grow up fast 'because people expect so much more of you when you are famous, and all I've ever wanted to do is to make an impact on the world'.
As the wholesome, fresh-faced star of the Disney Channel's top TV series Hannah Montana, she brought London's Leicester Square to a halt last week when – wearing a thigh-high glittery dress and 4in heels – she arrived for the premiere of her new movie.
Miley revealed: "It's not realistic for this kind of double-life to work. Anyone over the age of 14 is going to understand that. But while Hannah was the alter-ego who allowed Miley to live her dream, in the film they've melted together and it's ruining her life. She doesn't know who she is any more and she's trying to find herself. You can be five or 60 but still figuring out if you're really the person you've been called to be."
Miley started to act before she was ten, winning parts in the Tim Burton movie Big Fish, and Doc, a series featuring her dad in the lead role. Aged 11, she auditioned for a new Disney show called Hannah Montana.
"I didn't get the role till two years later, so there was a long period of wondering whether it was going to happen for me. Luckily, it did."
"It's hard growing up in the spotlight," she admits, "and I'm changing. I can't be the 12-year-old who just moved to LA for ever. I'm having a great time doing what I do, but I'm also going to stumble and fall. Having my parents close helps."
She added:"'People mention child performers who have gone off the rails, but there are also stable people like Jodie Foster. She was a child star and look where she is now. She called to give me advice which was great."
Internet gossip sites can be cruel – the most obvious offender being Perez Hilton, whose blog ritually castigates Miley Cyrus for no apparent reason.
"That can be painful," she admits. "That's just a mean person. I don't know how old he is, but taking it out on me is a little strange. It's like going back to high school. I get to travel and go to London and Paris, while this person sits by the computer writing mean things about me. I'd rather be the one traveling."
Already acutely business-savvy, Miley knows her days as Hannah Montana are numbered, and she has already taken tentative steps out of the tween bubble.
Her next film, The Last Song, scripted by Nicholas Sparks (The Notebook, Nights in Rodanthe) will take her out of the Hannah Montana comfort zone, giving her the opportunity to prove that she can act a part that isn't essentially herself.
Her romance with Nick Jonas of the Jonas Brothers now over, she is dating 20-year-old model Justin Gaston.
Frequently referred to as a ' Bible-reading underwear model', Gaston is an extremely handsome and – in teenage terms, at least – much older boyfriend, proving that Miley Cyrus is growing up quickly.
"But I want to keep my virginity until I marry," she explains solemnly. "I was brought up in a Christian family."
Comments
comments