Michael Jackson's youngest child, Prince Michael II, is struggling to accept that his father is dead, according to Mark Lester, a close British friend of the singer.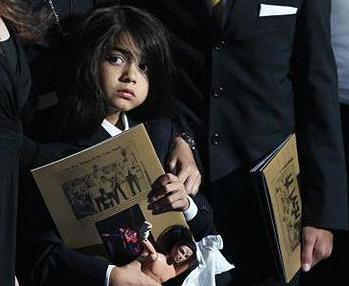 The seven-year-old, who is referred to as "Blanket", asked whether his father had simply gone on holiday.
Mr. Lester, who is godfather to Michael Jackson's three children, said that the boy had been bewildered at the memorial concert in Los Angeles earlier this month.
He also disclosed that the family might spend Christmas with him in Britain later this year.
The star of the 1970s musical Oliver!, Mr Lester was close to the Jackson family for many years.
In an interview with Hello! magazine he said that the singer's daughter, Paris, 11, had been emotional at the event while her 12-year-old brother, Prince Michael, had been uncharacteristically reserved.
But he added: "It was obvious to me that Blanket is still unsure about exactly what has happened to his father.
"He said: 'Where's Daddy gone? On Holiday?
"It was a rhetorical question and broke my heart. He clearly hadn't accepted that he won't be seeing his father again."
Mr Lester, 50, disclosed that he had been expecting Michael Jackson and the children to stay with him at his home in Gloucestershire at Christmas.
He told the magazine that Paris told him at the concert that she had already bought presents for his children and hoped that they could still attend.
"She was disappointed my daughters weren't able to come to the memorial," he said.
"She asked me, 'Can we come and stay with you at Christmas and I can bring the presents?'
"I was very touched and hope that can still be arranged."
"It's difficult to say until the custody arrangements have been finalised."