Not content with playing the most famous character in modern fiction, it seems that Daniel Radcliffe has literary ambitions of his own.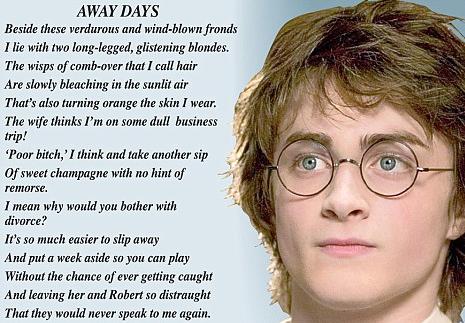 The 19-year-old star of the Harry Potter films has been unmasked as a budding poet whose work has appeared in an underground fashion publication.
But his female admirers might be disappointed to learn that he is no romantic.
His quartet of poems, published under a pen name and written when he was 17, are about infidelity, Pop Idol and junkie rock star Pete Doherty.
The most controversial of the four, Away Days, details the narrator's affairs with prostitutes.
A second poem is in homage to Doherty while another takes aim at Simon Cowell and the queues of 'deluded' fans who line up to compete in TV talent contests.
The final effort is about a man's attempts to seduce women.
They appeared under the pseudonym Jacob Gershon, a combination of Radcliffe's middle name and the Jewish version of his mother's maiden name, Gresham.
They were published in November 2007 in Rubbish magazine – a satirical annual publication with a circulation of 3,000 which describes itself as 'a playful platform for fashionable people'.
Introducing Radcliffe's work, it says it is 'proudly debuting the work of Jacob Gershon, 17, a very exciting and dynamic young poet'.
The actor let slip the existence of his verse in a recent interview. He says: 'I didn't want to publish it under my name. It's the kind of thing I look back on and just think, "Ahhh!" '
It is perhaps not surprising that Radcliffe has an interest in writing. He was awarded an A grade in English literature when studying at the City of London school.
'As an actor, there is room for a certain amount of creativity, but you're always ultimately going to be saying somebody else's words,' he said in the interview with the Guardian.
'I don't think I'd have the stamina, skill or ability to write a novel, but I'd love to write short stories and poetry, because those are my two passions. There is an art to a short story.
'I love Raymond Carver, and Chekhov – without making myself sound more highbrow than I am! When I don't write in form and metre, I become unbearably self-indulgent. It's what Robert Frost said: free verse is like playing tennis with the net down.'
A spokesman for Rubbish magazine said: "Poetry is a key aspect to Rubbish, so it was fantastic to be able to provide the platform for "Jacob" and his debut work."
Comments
comments