A sexy tape featuring glamor girl Danielle Lloyd is being offered for sale to the highest bidder, according to a report today.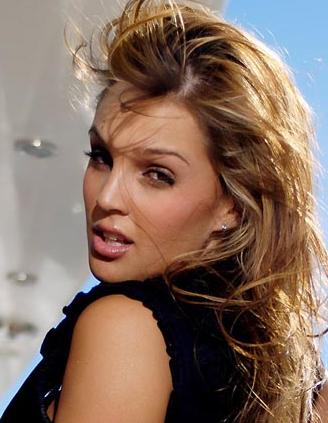 The footage, which was shot on a mobile phone camera, is said to show the former Celebrity Big Brother star [email protected] and was recorded by an former boyfriend without her permission.
Danielle Lloyd, who is currently in the US, has told friends that she is "devastated" by the news of her possible explicit tape.
A friend revealed: "Danielle is upset, disappointed and angry. She had no knowledge of any such film's existence and would never ever have agreed to take part in anything like this. She just can't believe anyone would stoop so low as to film her behind her back."
The model recently revealed that she is hoping to launch a career in the States in the future.
Meanwhile, Danielle Lloyd apparently can still have some fun as she's been seen getting a new tattoo on her neck. She was seen getting the new tattoo etched on her body at an L.A. parlor on Friday, September 5.
The tattoo, which is a Hebrew message scrawled down on the back of her neck, translates to "Only God can judge me". It is widely believed that the fashion and glamor model intentionally inked the new tattoo as a reference to 'recent slurs' addressed to her.
Danielle Lloyd's new tattoo is similar to that which Victoria Adams has. As for the Spice Girls singer, the tattoo etched on her neck read, "I am my beloved's and my beloved is mine, He who pastures his flock among the lilies." However, she doesn't comment on her new body art.
Comments
comments