The Jonas Brothers are in London for the premiere of their film Camp Rock. They posed with their fans and signed autographs for them while leaving BBC Radio 1 on Tuesday, September 9. Also in the day, the trio took a dig at Russel Brand's relative anonymity in the US.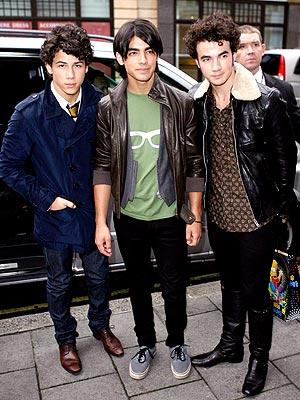 At MTV Video Music Awards on Sunday, September 7, Russel Brand frequently joked about the siblings' abstinence vows, at one point saying, "They can have sex with any woman they want but they choose not to. That's like Superman just deciding not to fly and to go everywhere by bus."
Speaking about Brand, Joe, 19, revealed: "I didn't know of him, actually. We knew, I think, the movie he was in, Forgetting Sarah Marshall, but other than that I think it was the first time anyone had heard of Russell Brand."
Nick Jonas said the siblings were focused on their performance so they got to hear only some of Russel Brand's jokes, "We heard some of it. But we were really focusing on our performance and we worked really hard to keep our minds on that."
Something else they were focused on says Nick Jonas is "the fact we got to meet Britney [Spears]. We'd never met her before and we dreamed of it."
Camp Rock premieres at the Royal Festival Hall in London this week and airs in the UK on the Disney Channel on September 19.
Comments
comments