Sobbing Paris Jackson tenderly wrapped a necklace around dad Michael's wrist as he lay in his open coffin, it was revealed yesterday.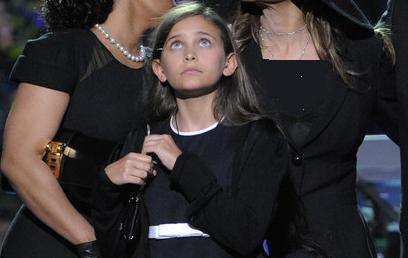 Jackson's elder sister La Toya, 53, witnessed the 11-year-old's heartbreaking act during the family's private viewing of his body at the Forest Lawn Cemetery last Monday.
She said: "Paris told me, 'The heart is in two pieces. I want one half to go to Daddy and I will wear the other half for ever'.
"She carefully wrapped it around his wrist and said, 'Daddy this is for you. On Daddy, it will be blue because he is cold. On me, it's purple. He's so cold, he is so cold'."
Paris bought the broken heart necklace, which changes colour in different temperatures, after the King of Pop died and wore it when she delivered her emotional tribute at his memorial service.
La Toya also revealed how Paris got some coloured stones and lovingly decorated Michael's body with them.
She added: "His lips were slightly swollen from the autopsy and Paris asked, 'Who did that to Daddy?' I told her it was because he had passed."
La Toya said she put Jackson's sequinned gloves and a pair of his favourite sunglasses on him in the coffin. He was dressed in an elaborate cream jacket with pearls and beads, made by his long-time costumier Michael Bush, black trousers and a gold belt with two cherubs on either side of the buckle.
Fighting back tears, La Toya recalled the moment she first saw his children, Prince Michael I, 12, Paris and Prince Michael II, seven – Blanket – after their dad's death.
"When I got to the hospital my mother was crying and the kids were crying," she said. 'I screamed, 'Is it true?' and she said, 'Yes, he's gone'. I couldn't stop crying. I'm screaming and the kids are screaming. My mother was sitting there with all three of them on her lap, just crying."
La Toya described how distraught Paris demanded to see her superstar dad and how she held her hand as all of the children went into the room where he lay. La Toya said: "There was a towel over his face. I lifted it and the kids saw him and Paris said, 'Oh Daddy, I love you'.
"We hugged and kissed him and the children lifted up his hands. He didn't look like he was gone. The kids had been crying but once they were in that room and saw Michael they became calm.
"We said prayers over him. I asked them, 'What do you want to say to Daddy?' and they said private things to him. Paris held his hand."
Advertisement – article continues below »
To help the children cope with Jackson's death, the family have hired a grief counsellor, La Toya revealed.
Prince Michael was finding it particularly difficult to come to terms with, she said.
La Toya added: "Michael was a very good parent. It was funny seeing him changing nappies, because you never imagine him that way. But Michael was a hands-on dad. He was quite an expert."
La Toya also described how Paris was paying tribute to her dad. She said: "She wears Michael T-shirts every day and the walls of her room are covered with posters and pictures of her daddy.
"She writes him letters every day, sweet lovely letters about how much she loves him. They are brilliant. When you read them you cry."
La Toya confirmed reports that Blanket was created from a donor egg and sperm. "Michael didn't want to know who the biological parents were," she revealed. "They took eggs from a donor and I believe the sperm came from one of five donors picked from a book.
"I don't know who carried the child or if the surrogate knew whose child she was carrying. Those children were his greatest joy. He was a superstar but the only people who loved him unconditionally were the children."
La Toya insisted her brother would never be buried at Neverland, his sprawling 2,400-acre former home, claiming he hated the place.
She said: "After the second trial, he said to me, 'I will never come back to this place again. It helped destroy me'."
It emerged yesterday that child protection officers visited the Jackson family home in Encino on Friday to interview Prince Michael, Paris and Blanket.
They also quizzed Jackson's mum Katherine and other family and inspected the sprawling mansion. Sources said it is "routine" for the agency to check on children who have lost a parent in an accidental, mysterious or suspicious death.
A guardianship hearing over the three children scheduled for this morning has been postponed for a week. Lawyers acting for Katherine and Debbie Rowe – mum of Prince Michael and Paris – had been expected to square up in a Los Angeles courtroom.
But they are now reportedly thrashing out a deal to keep Jackson's dad Joe away from the kids. It is believed it will mean Katherine retaining guardianship with Rowe allowed regular access.
Comments
comments