David Archuleta, runner-up in "American Idol's" 2008 season, is playing the Burns Arena in St. George on Tuesday and local fans are ecstatic.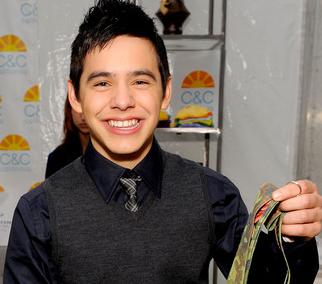 "I'm so excited!" says McKayla Hummel, 12, of St. George. "My seats are on the third row on the floor – so pretty exciting."
Also sitting on the third row is Megan Clarke, 14, of Santa Clara.
"I'm looking forward to seeing him," Clarke says. "I really, really want to touch his hand when he's singing, 'Touch My Hand.'"
His fans are not limited to teen and pre-teen girls.
Ann Mitchell describes herself as a "silly" 60-year-old woman who "loves David Archuleta!"
"I was so excited to have him come to St. George that I started to jump up and down," Mitchell says. "I have always thought he is 'The American Idol.'"
Hummel has already had her own special experience with the 18-year-old singer from Murray.
On Aug. 28, 2008, she and her family traveled to see Archuleta performs with other American Idols at a concert in Oklahoma City. Although she had already seen him perform once in Utah, Hummel says she figured it would be easier to get a backstage pass to see him in Oklahoma City because of its distance from his home state.
She was able to get backstage passes from a neighbor who knows Archuleta's aunt. Hummel, her mother, father and brother were all able to go backstage following the concert.
"I had just broken my arm and I wouldn't let anyone sign my cast because I was saving it for David Archuleta's signature," Hummel says. "He seemed shocked that I would save my cast for his signature only. He signed it really big on the front so other people could see it and again on the back so I could see it every time I looked down."
She says Archuleta was "so nice." As he signed her cast she told him that she broke her arm playing night games. He replied that he too enjoyed night games and suggested they should get together sometime and play.
"Of course, I thought that was a wonderful idea," Hummel says. "I'm just still waiting for that day to come!"
Hummel says Archuleta then talked her into letting the other Idols sign her bright green cast. Although she only wanted Archuleta's signature she says she couldn't possibly tell the singer "no."
After the experience she had a great time showing her cast and the Idol's signature.
Advertisement
"It was worth breaking my arm," she says. "I even saved my cast, which I will cherish forever!"
Hummel has since recorded her experience in essays for school and even in a hardcover book she wrote for an English class. She has an extra copy of the book, which she hopes to give to the singer if she gets the chance Tuesday.
Even if she doesn't get the chance she'll still be on the third row of his concert – closer than she was the two previous times she saw him perform.
Clarke has also seen Archuleta perform previously. She caught him in Murray last year for a homecoming celebration.
"He was really good," Clarke says. "It was fun to watch him perform."
Clarke says she likes the message of Archuleta's music. She feels that he reaches out to everyone through his songs.
Plus it's fun to dance to with her friends, she says.
Hummel says she gets "the chills" every time she listens to Archuleta's music.
Mitchell, who had never purchased a CD before Archuleta self-titled debut came out in November, bought it the day it was released.
Despite her love of Archuleta's music, Mitchell says she gave the CD to a young Archuleta fan in Cedar City who could not afford to buy the album. She also purchased to concert tickets for the girl and her mother.
Mitchell plans to attend the concert with her daughter and two granddaughters. Yet in another gracious act she traded seats with the girl from Cedar City so the girl could be closer to Archuleta during the show.
Tickets are still available for the 7:30 p.m. Tuesday show at Dixie State College's Burns Arena. You can get them online at tickets.dixie.edu until midnight today. On Monday and Tuesday you can purchase tickets by calling 652-7800 or visiting the Cox Auditorium box office on campus. After 5 p.m. Tuesday tickets will only be available at the Burns Arena box office.