He may have already won the title of American Idol, but David Cook has returned to the show that made him a household name.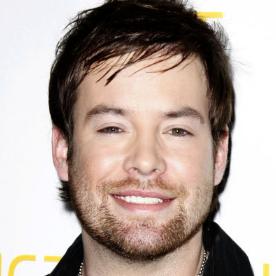 The rocker, who beat out pop crooner David Archuleta on last season's competition, performed his new single "Come Back to Me" for a thrilled audience, which will be featured on an upcoming episode of the Fox reality hit.
David also received a surprise treat of his own — a platinum album of his self-titled debut CD.
"Before Idol, it took me a year to sell 1,000 records, and now I am platinum in three months. Amazing!" a grateful David announced, clearly stunned that he managed to sell 1 million copies in such a short time. Prior to his TV breakthrough, the singer released a slow-selling independent album titled Analog Heart, which now commands up to $500 on eBay. It looks like there's no stopping this shooting star!
Meanwhile, David Cook is scheduled to perform a concert at Missouri University of Science and Technology on Monday, April 27.
Cook's performance will begin at 7:30 p.m. in Missouri S&T's Leach Theatre of Castleman Hall, 10th and Main streets in Rolla. Tickets are $38 for adults and $22 for S&T students and youths age 18 and under.
Beginning at 9 a.m. Tuesday, March 31, 100 tickets will be made available to Missouri S&T students presenting a valid S&T student I.D. at the Leach Theatre Box Office. Students may purchase one ticket per S&T student I.D. and each student may present up to two S&T student I.D.s.
The public may purchase tickets beginning at 9 a.m. Wednesday, April 1, at the box office window, located in the front lobby of Castleman Hall, in Rolla. No phone orders will be taken on April 1 and tickets are limited to four per person. Box office hours are from 9 a.m. to 4 p.m. Monday through Friday.
Beginning Thursday, April 2, phone orders will also be accepted for any remaining tickets by calling 573-341-4219. Leach Theatre accepts MasterCard, Visa and Discover credit cards.