The odd gifts American Idol 7 runner-up David Archuleta has received from fans include an avocado slicer and an egg slicer.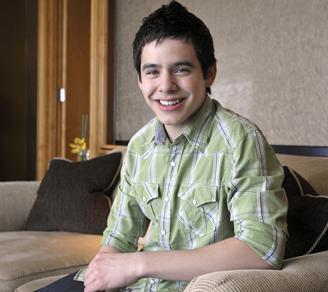 The 18-year-old, looking refreshed and energetic in a casual getup of green checked shirt and jeans despite a long flight from the United States, says: "I received them from two different fans in two different states, and I was like, 'erm… I couldn't figure out why my fans would give me such stuff."
Other fans have tried to demonstrate their affections more explicitly. At an interview at the Ritz-Carlton hotel on Monday morning, the boyish-looking singer recalls one fan who grabbed and tried to kiss him: "I tried to push her away without sounding rude, but she just wouldn't let me go. It was pretty scary and crazy."
Archuleta, who was in town to promote his self-titled debut album released in the United States last year, held a showcase at Illuma shopping mall at Bugis yesterday evening.
He leaves for Malaysia today as part of his Asia tour.
Meanwhile, Archuleta admitted that he was at a lost at the start of his tour.
"From the first show, I was like 'Oh my gosh. How am I going to be able to move around the stage. And I don't know what to say, I don't know what to do.'"
In addition, Archuleta, who was used to performing shorter renditions of songs on "Idol", had to do up to 17 numbers in one night during his concert, and wasn't sure if his voice "could hold up till the end".
"But it seemed like the more I did it, the stronger my voice got," said the "Crush" hitmaker, who is Singapore as part of a promotional tour in Asia.
"To see how my endurance has grown, how my voice has strengthened, it's been really neat to see that… And I'm just so glad to be able to overcome that and to have these opportunities to go on tour and to sing."
He added, "It was crazy to think that everyone there came to see me, like they actually did come to see me perform. It was so out-of this world, so surreal to me."
Archuleta, whose fan base consists mostly of legions of screaming teen and pre-teen girls along with their mothers, shared that some of his older fans are somewhat embarrassed about raving over his music.
"Maybe you're too old for me, but… as long as you don't put it that way," he joked.
So Archuleta fans – young and old – be sure to catch the star's performance at the newly-opened Iluma Media and Entertainment Centre at Bugis on Tuesday at 7pm. Archuleta might just perform his unreleased song, "Zero Gravity", a fan favourite during his US tour.
On the amazing response to the song, Archuleta said, "It's just crazy because they've never heard it before! But I think that's part of what really drew them to it – the excitement of the song and the energy.
"For me, I had so much fun (doing it on the tour). I'm always jumping around and stuff and it's so cool to see everyone else jumping too. The thrill, it's just amazing!"
And if you are crossing your fingers that "Zero Gravity" will be released soon, you might be disappointed as even Archuleta doesn't have an answer to that.
"It's all up to the (record) label if they want to release it after the response," he said. "It was a song that people thought wouldn't work out but we decided to put it in the show for the tour anyway so we can have something fun."
Comments
comments