David Archuleta poses with NFL cheerleaders at the Pro Bowl on Saturday (February 7) at Aloha Stadium in Honolulu, Hawaii.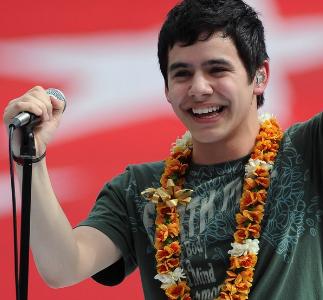 The 18-year-old "Crush" singer was just in Florida the past week, where he made his own pizza pie and performed for a crowd of over 500 fans. We think there was more than 500 fans today!
David guest-starred with Miranda Cosgrove on her Nick series, iCarly, tonight.
Meanwhile, It's David's first time in the warm and sunny Hawaii and he's already having a blast!
Here he is looking comfy wearing a t-shirt and participating in the OHANA DAY pre-game festivities that will lead up to tomorrow's PRO BOWL appearance at the 50,000 seat Aloha Stadium.
Comments
comments