On last season's "American Idol," David Archuleta ended up losing the crown to David Cook but he still got a chance to pursue his pop star dreams with a record deal on 19 Recordings/Jive Records.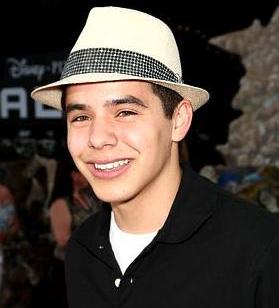 Now, the 17-year-old "American Idol" runner-up is hoping all those votes on TV's top-rated show will parlay into album sales. His self-titled debut is in stores now.
So far, the teen's future looks promising. His first single, "Crush," peaked at No. 2 on the Billboard Hot 100 charts and is a top download on iTunes.
Now the teen heartthrob talked about going solo and what he thinks Simon Cowell may have to say about his record.
On the feeling of releasing this album, he revealed: "The album coming out is a pretty exciting time for me in my life because I've always been looking forward to it. After all the hard work over the summer and a lot of time and effort put into it, it's cool to see the finished product, because now everyone's gonna be able to get a chance to listen to it and it's really exciting."
If he feel like there's a competition all over again with David Cook, he answered: "It never really felt like a competition with Cook. Not even on the show were we competitive very much. We're kind of in our different categories in the music world but I'm just hoping for the best. I'm real excited for his album too. I've heard a few of the songs and they sound great."
If fame has surprised him or what he didn't expect, he admitted: "Well, the surprise of fame I guess is actually the fact that I'm actually dealing with it. You know, you see what other people have to go through and stuff, all the attention and I guess I never really realized that it would actually happen to me the way it has. That's pretty crazy to see how it goes with all the gossip and rumors and celebrity stories. People always wanting to know everything about what's going on, every little bit of your life but I guess that's what comes with this whole thing."
What was that like when he got to act in his first music video for "Crush," he replied: "It was a lot of fun. I was a little nervous at first because I was wondering, "Oh, am I gonna be able to pull it off? I don't know if I'm a very good actor or anything like that (laughs)." But it was really easy and it was a lot of fun to do and I think it went really smoothly. It was just a lot of fun to be able to get into character and the story and the whole thing and be able to kind of like, work with other kids my age in the music video."
What effect will that have on the show [of having a fourth judge in American Idol], he said: "Having a fourth judge on the show I think will be really exciting … it will add a kind of nice flavor to the group and Kara DioGuardi is amazingly talented. She's an amazing songwriter and singer. She was one of the writers of one of the songs that is on my album, she did backup vocals on that. She's such an awesome person. She has a really spunky personality too. It'll be fun to see her on the show."
What do you think Simon Cowell will have to say about your album, he shared: You know you never know what Simon's gonna say (laughs). I hope that he likes it. You never know what he'll think. I'm sure he'll have an opinion but hopefully he'll appreciate the work that went into it. I know he understands how much work goes into making an album. Hopefully there will be at least one song he likes (laughs).
You're in your senior year of high school. How are you balancing school work with the music business? He added: "It is quite a challenge trying to balance both school and this crazy music world but I've been trying to keep up with that. … So far it's been pretty good. The entertainment world is so unpredictable. There's not really like, "Oh, this comes after this and then this time and then you get a day off on weekends." It doesn't work that way. It's like, "OK, oh by the way later on today you're going here and doing this." It's like, "OK." Flying out here or there or everywhere."
Comments
comments