David Archuleta, who is the last season's American Idol runner-up, is celebrating his 18th birthday on December 28.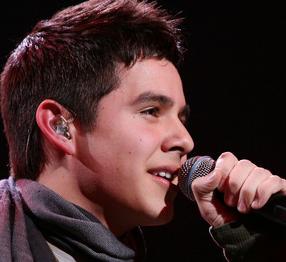 Needless to say, his 17th year was momentous for David Archuleta, rocketing out of nowhere to become the instant leader of the greatest movement "American Idol" has every known; a million selling single; an album that should turn gold momentarily. Lately Archuleta has been making Christmas appearances just about everywhere on Earth.
He revealed in his post from his myspace blog that he did the last few Jingle Ball shows this week and it was such a blast.
He wrote: "Sunday was Philly/South Jersey for Q102, and I was stoked because I got to run out and take a picture of a few things before I had to get ready and leave for the show. Then on Monday we went to Minnesota for KDWB, and it was the first time I got to see T.I. perform. It was soooo cold! I think it was like -27 with the windchill or something. On Tuesday we went to Chicago for the B96 show, and it was really cold there too. It was my last show with my buddy Shontelle, who's just a really cool girl haha. It was fun doing a lot of shows with her. After the soundcheck in Chicago, I had to go back to the hotel to get some stuff, and normally it takes like… 10 minutes to get there… Wednesday in Atlanta for Star 94 was the last show for me, and it was sooooo much fun. I had a really great time."
During the time that David Archuleta sang "A Thousand Miles", the band and crew surprised him with a birthday cake since it was the last time I'd see them before my birthday.
He also wrote: "The crowd sang happy birthday and I tried to blow out the candles, but they kept lighting back up because they were trick candles haha. It was really cool of them to do that for me though, so thanks you guys! It was so awesome working with them on all of these shows."
Although the "American Idol" runner-up admitted that one of the biggest songs of the year for me was definitely "I'm Yours" by Jason Mraz, his song for the day in his recent blog post is "Snow" by Amie Miriello.
On his song for the day, he explained: "This is one of my favorite songs of the year. I thought it'd be appropriate as I now wipe the windshield filled with snow haha."
Comments
comments