David Archuleta performs Friday at the E Center in West Valley City. He showed in his first headlining show in his hometown that he has moved beyond who he was on TV — a shy, awkward teenager – and is on his way to becoming a man.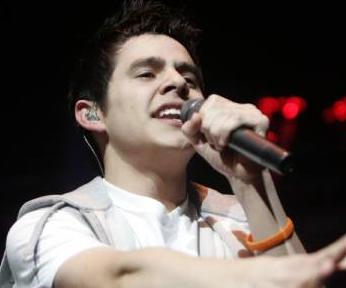 Archuleta, in his last tour stop in his first headlining tour, illustrated that tour dates all over the country have turned him into a seasoned performer, whether it's amiably interacting with the primarily mom-and-teens crowd or swaying on stage comfortably, rather than looking like a nervous junior high student at his first dance. Sheepish giggles that were his trademark on the shows have been minimized, and he is much more articulate – even though he did tend to call everything either "crazy," "awesome" or :amazing."
"It feels so good to be back home, guys," Archuleta gushed to the nearly sold-out arena early in his 80-minute, 15-song set. "All these people – wow."
Clad in a white shirt, grey hoodie vest and black jeans, with his hair trendily faux-hawked, Archuleta boasted a voice that was loud, clear and strong throughout, despite ear-piercing squeals and shrieks from the Generation Texters in the crowd that out-decibeled the singer and his lean four-piece backing band.
The set list produced surprises that one wouldn't expect from someone with only one album under his belt. An up-tempo, club-ready outtake called "Zero Gravity," co-penned by Archuleta, was one of the highlights and was matched in enthusiasm by the crowd, who showed a remarkable devotion to their teen idol by knowing the words to the song.
Another highlight of the set was a four-song medley that Archuleta called some of his favorite songs. He began the medley with U2's "One," segued into Des'ree's "You Gotta Be," moved onto Sara Bareilles' "Love Song," and ended with what Archuleta proclaimed his favorite song of 2008: Jason Mraz's "I'm Yours." The singer was most impressive with his phrasing on the U2 number, with his vocals hewing more towards Mary J. Blige's version than Bono's. It was in this song that his tenor revealed the soul influences that made him undoubtedly one of the better song interpreters in "Idol" history.
Archuleta even showed off his chops on an often over-looked part of his heritage: his Honduran roots, from his mother's side. He sang the opening to Selena's "Como La Flor" a cappella, to the crowd's delight.
The singer closed with a two-song encore, with just him and a piano: Vanessa Carlton's "A Thousand Miles" and then Robbie Williams' "Angels." Although "Angels" was one of Archuleta's signature songs on "Idol," he showed that he is moving on to other, and better things.
Comments
comments