iCarly "iRocked the Vote", featuring teen "Idol" David Archuleta, was TV's number-one show for the week (2/2/09-2/8/09) with kids and cable's top program with tweens. — It drew 5.2 million total viewers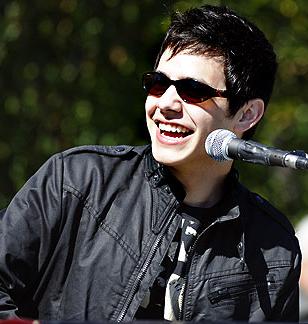 Nickelodeon's Saturday night premieres of iCarly and True Jackson — part of Nickelodeon's "Crush Night" TEENick programming block — scored as the weekend's biggest event for kids and tweens. The iCarly premiere telecast (8-8:30 p.m.) placed atop all of television with kids and cable with tweens for the week of Feb. 2, cementing the show's position as TV's number-one program with kids 6-11 for six consecutive weeks.
Meanwhile, David Archuleta will be the first to record a single for the Build-a-Bear Workshop called "Let's Talk About Love".
It will be available for download on February 14–but you better hurry, because it will only be available until March 4th. Proceeds from the song will go to the Save the Children fund.
David Archuleta also blogs from sunny Hawaii, where he sang the National Anthem at the NFL Pro Bowl on Sunday. On his way to Hawaii, he ran into David Cook and his peeps at LAX.
His post revealed:
"Aloha! I'm here in sunny Hawaii, and it's so nice here. I sang at the Pro Bowl yesterday, and that was way cool. Enrique Iglesias and Ciara sang during the halftime, and that was fun to watch because we got to watch from the field. I didn't get a chance to talk to Ciara, but Enrique was a cool guy. He's tall though! I didn't realize how tall he was. He's 6 ft. 2 in. haha. But anyway, the day before the Pro Bowl performance I sang at Ohana Day where people can watch the players practice. I sang A Little Too Not Over You, and it went well. Today we're going to try and look around the island and be tourists haha. It's so beautiful here, and I forgot how much I miss hot humid weather. It's been a long time since I haven't worn a scarf and jacket, because even last year during spring and summer we were always inside cold studios or arenas. Oh you know what's funny is while I was in the LAX airport for my layover, I ran into Cook and his gang. We were in the same gate area haha. Only he was headed to Florida, and I was leaving Florida."
He was also recently spotted learning how to make pizza at Vic & Angelo's, an Italian restaurant near Miami. The teen star then delivered his work – he "actually put the pizza in the oven," a source says – to a table of fans who had won a lunch with the Idol runner-up. He even grabbed a slice himself!
Comments
comments