The U.S. fraternal pop group The Jonas Brothers has agreed to make its first appearance on the "Late Show with David Letterman," CBS announced.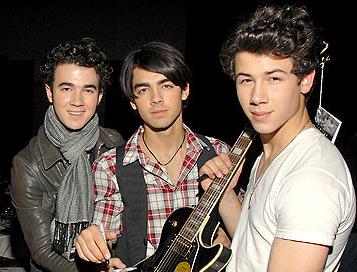 The band is to appear on the episode of the late-night chat show scheduled to air Thursday.
Kevin, Joe and Nick Jonas will be seen on the big-screen later this month in a film documenting their sell-out summer 2008 concert tour, "Jonas Brothers: The 3-D Concert Experience."
The movie is scheduled to open Feb. 27.
Meanwhile, Teen singing sensations and Grammy nominees the Jonas Brothers have melted young girls' hearts all around the world.
And now, the boys are gearing up to for their biggest endeavor yet — the release of 'Jonas Brothers: The 3D Concert Experience' on Feb. 27 — and fans everywhere just can't wait. So sneak a peek at some images from the eagerly anticipated film before it hits theaters, and you can also whet your Jo Bro whistle this Thursday when the frolicsome threesome take over the ET stage as co-hosts!
Comments
comments