Is Angelina Jolie going to appear in an underwear commercial with David Beckham? It doesn't look like it.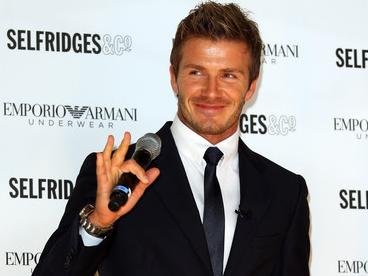 It had been reported that the actress had signed a deal with Emporio Armani and the Italian fashion house was keen for her to team up with the hunky soccer star.
"When you have David Beckham and Angelina Jolie signed up to your fashion house it's a no-brainer to link them up," a source revealed.
"They appeal to a diverse audience and a collaboration would create so much publicity it would push Armani head and shoulders above their rivals. There are a few contract issues to be addressed but marketing experts are being tasked with coming up with clever ideas for a print campaign.
"The two are exceptionally beautiful on camera but both are in committed relationships so the advert would have to be sexy without offending their partners."
But David — who is married to former Spice Girl Victoria Beckham — has spoken out to set the record straight.
"I don't think that's true," Becks told US TV show Extra. "I definitely don't think that's true. Think it's something put out in the press."
Beckham also revealed that he'd pass if asked to pose with Jolie. "She's an amazing person and so is Brad Pitt. They're an incredible couple — got an amazing family. You know she wouldn't do it and I wouldn't do it. At the end of the day, I wouldn't do it because I'm married."
Comments
comments