A Thai newspaper has sparked outrage after publishing a photo of David Carradine dead in his hotel room.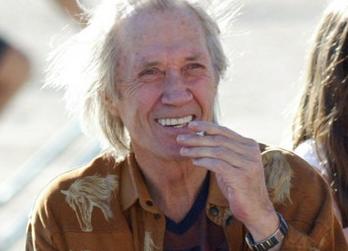 The front page of the Thai Rath tabloid paper in Bangkok showed Kung Fu star Carradine hanging from the rail in his hotel room with his hands tied above his head. Published on Saturday, much of the body in the photo has been shadowed by the paper, but there are still explicit details of the death scene.
The photo shows Carradine, 72, with his hands tied in front of him, hanging from the support bar in a closet. Tattoos on the lower half of his nude body can be seen. Discoloration of the skin on the lower extremities indicate he had been dead for hours before being found, according to experts.
The doctored image has also been posted on several blogs but a lawyer for the Carradine family blasted the publication of the photo, which is believed to have been leaked by police in Bangkok. And they threatened to sue any US publication for 'invasion of privacy and distress' if they reproduced the photo.
Attorney Mark Geragos, who represents David's brother Keith Carradine, said: "The family is outraged about the release of these photos. "I will legally go after any publication for invasion of privacy and emotional distress if the photos are run in the United States."
Earlier it was reported that David Carradine's lawyer thinks there may have been "foul play" in the actor's death after he was found hanging in a hotel closet. David, 72, was found dead in his hotel room in Thailand on June 3. There have been several claims to the cause of his death including suicide and that he died as a result of a sex act gone wrong.
However, his lawyer Vicki Roberts was quoted at the time as saying: "I believe that there may have been foul play. Anybody could stage a suicide after a murder." The legendary actor was best known for his roles in the TV series Kung Fu as well as his part in Quentin Tarantino's movie Kill Bill.
Comments
comments