Twilight actor Robert Pattinson has not seen any of the video footage from new flick New Moon as he wants to be surprised by the final cut. Robert, 23, is currently shooting the film and a 15-second preview of the upcoming film was recently released to great fanfare at the MTV movie awards.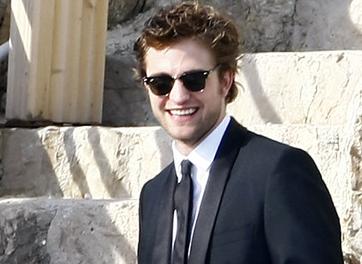 Twilight, the movie and Rob Pattinson along with co-star Kristen Stewart were all big winners at the awards show and the trailer added to the New Moon movie buzz for the evening and showed Rob as vampire hunk Edward Cullen racing to save love interest Bella Swann and a kiss to seal the deal.
Still – Robert admitted he hasn't seen any of it. He said: "I haven't seen anything! "I mean, from what I've seen from playback and stuff when I've been shooting it, it looks amazing. So I think [New Moon] should be [good]. "I'm keeping it as a surprise for myself."
Meanwhile, Twilight heartthrob Robert Pattinson and Milk hunk James Franco are both in contention for the lead role in an upcoming biopic about the tragic life of singer Jeff Buckley.
Buckley, the son of musician Tim Buckley—who died at the age of 28 from a drug and alcohol overdose—passed away from an apparent accidental drowning in May 1997. He was just 30.
Time will tell who will eventually land the role. On one hand, RPattz has already proven that he has the singing chops. On the other hand, Franco seems to be on a biopic roll, what with the award-winning Milk and his upcoming turn as beat poet Allen Ginsberg.
Comments
comments