Perhaps this could be a good news for David Cook's fans, who want to win the 26-year-old hunk's heart. The "American Idol" Season 7 winner is reportedly single again.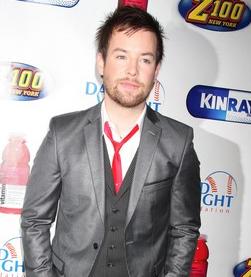 According to a report, a source close to the singer has confirmed that David has split from his girlfriend Kimberly Caldwell, the contestant on the second season of "American Idol".
David Cook started dating Kimberly Caldwell after he won "American Idol" in Spring 2008. During the taping of "Live With Regis and Kelly" show last May, David revealed that he and Kimberly went on a date after repeatedly meeting through the Idol show. "I did. We'll probably hang out again. So we'll see," he said.
Meanwhile, before the news of the break-up, another report has suggested that Kimberly Caldwell was caught getting a little too cozy with a bar manager named Ryan Der, just weeks after David Cook checked out a $54,000 engagement ring for her.
Kimberly shocked eyewitnesses when she flirted, danced, drank and made out with Ryan Der at L.A.'s trendy ONE Sunset on Dec. 29.
An insider revealed: "Everyone could see she was really letting loose. She and Ryan were laughing together as they threw back beers and vodka cocktails."
Before long, says the insider, Kim and Ryan, a tall hunk with a shaved head, were "grinding on the dance floor. They started playfully kissing, but that quickly led to long lip locks until they were full-on making out."
Comments
comments