David Cook, who drew the sympathy of viewers who've also been touched by tragedy with his brother Adam, who's fighting brain cancer, continued to rock in his new album.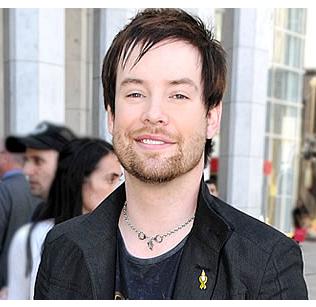 The "American Idol" champ fueled his anguish over Adam's illness into the gut-wrenching ballad "Permanent," one of 13 songs on his namesake debut album.
He revealed after recording the track in two takes: "I actually called my dad and wept openly for about 10 minutes. Anytime you can create something where what's in your head actually comes out the way you originally heard it, it can be pretty overwhelming and pretty heavy. I just remember being completely knocked on my (butt) by this song."
David Cook is hoping listeners have a similar experience when they listen to the rest of his album, saying: "I wanted to come out with a record that was both heavy and delicate and had some eclecticness to it. So I feel like we've got this record that meanders and takes people on a journey a little bit."
If only he could remember his big moment in American Idol, David Cook mused on the finale: "I actually watched it back and was like, 'I don't remember doing any of that.' I can't tell you what it was like to stand up there and hug Archie (runner-up David Archuleta) after the fact."
He laughed off the "cougar" love as he claimed a lack of heartthrob appeal, saying: "I've never ever looked at myself or thought of myself as that. I'm just this goober who likes crosswords and plays music. And that's really what I am. The whole rock-star mythos thing, man, does not apply to me in the least."
He admitted that his emotional honesty made the ladies swoon as he explained: "I didn't put up a front. I wasn't trying to be anything else. I wasn't trying to cater to any particular person. I just was on the show, you know? And so, when I cried, it was real. When I laughed, it was real. And, I don't know. Maybe that hit a nerve with some people."
Grammy-winning producer Rob Cavallo compared David Cook to big-voiced former Journey frontman Steve Perry, who dropped by the studio while Cook was recording.
The producer described David Cook as "an unbelievably gifted singer." He added: "There's no song on the record that he didn't sing in two or three takes. … He can sing harmony to any of his songs automatically without even thinking about it."
Ironically, Archuleta is beating Cook on Billboard's Hot 100 singles chart. The pop singer's "Crush" sits at No. 22, while Cook's first single "Light On" has dropped to 89th place after debuting at No. 17 last month. It ranks at No. 18 on Billboard's Hot Adult Top 40.
David Cook marvels at his own journey from nobody to reality TV star but he understands that the transition to rock star will be a harder one to pull off.
He added: "I mean, look, there's way better musicians out there than me, there's way better singers out there than me. The problem is they never get the opportunity to do this. And I think that's what `Idol' represents. It's an opportunity. It's not a golden ticket. It's not a free pass."
Comments
comments