Michael Jackson is too sick to travel to London to testify in a lawsuit with an Arab sheikh, according to his attorney.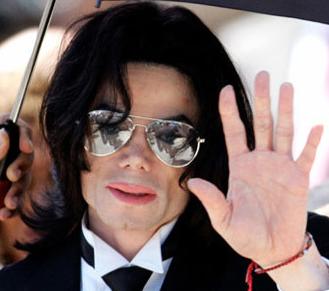 The singer's lawyer Robert Englehart told the High Court in London on Tuesday (18Nov08) that Jackson is awaiting test results on a mystery illness and wants to give evidence via video link from the United States.
Sheikh Abdulla bin Hamad Al Khalifa of Bahrain is suing the "Thriller" hitmaker for $7 million (#4.6 million) as he claimed Michael Jackson reneged on an agreement to produce an album, autobiography and stage play.
Michael Jackson denied the claims and insisted any money given to him were as a gift.
Judge Nigel Sweeney has now adjourned the case until Thursday (20Nov08) to allow time for medical experts from both legal teams to discuss Jackson's condition. However, if no satisfactory outcome is reached, Jackson could be forced to appear in court in person.
Meanwhile, in separate news its been revealed an Arab sheik who is suing Michael Jackson wanted to resurrect the King of Pop's career by writing songs for him.
Sheikh Abdulla bin Hamad Al Khalifa claims he's owed a $7 million (£4.6 million) advance on an album and autobiography deal that Jackson never honored.
He alleges he paid for a recording studio for the Thriller star and sent his own compositions for Jackson to record.
Al Khalifa, the son of the King of Bahrain, also claims he spent $2.2 million (£1.5 million) for Jackson to produce a song in aid of the victims of 2005's Hurricane Katrina – but he failed to turn up for the final recording session.
A version of one of the sheik's songs he wrote for Jackson is expected to be played in court.
The pair became friends when Jackson stayed in Bahrain for six months after he was cleared of child abuse charges in 2005.
Al Khalifa claims he had a deal with the singer to produce an album, autobiography, and a stage play. He also alleges he gave Jackson financial support, paying his living and travel expenses during the visit.
But Michael Jackson denied the claims, insisting the agreement was not valid and that Al Khalifa's case is based on "mistake, misrepresentation and undue influence".
The London trial continues.
Comments
comments