A scope creep in Miley Cyrus' 'friendship' with underwear model Justin Gaston was evident from their handholding as they left Mr. Chow Thursday night, March 12.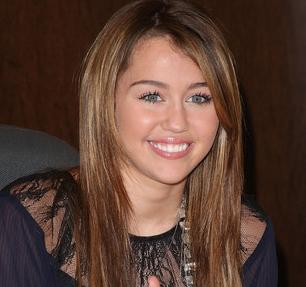 The fast maturing Hannah Montanna didn't flash her once customary victory sign, lit up by her high wattage smile. Instead, the sixteen-year-old looked almost dour faced, and gave a 'John Mayerish' response to a pap who asked her if she had a crush on Angelina Jolie.
"I have a crush on Jen," she said!
Maybe digs on her age and inexperience by Radiohead and Russel Brand haven't gone down well with Disney Star, and she has taken it upon herself to prove them wrong.
Miffed by Radiohead's refusal to meet her at the Grammy, Miley told at radio station recently: "I'm going to ruin them. I'm going to tell everyone."
To which the English alternative rock group responded: "When Miley grows up, she'll learn not to have such a sense of entitlement."
To add to Miley's woes, Russel Brand, referring to Miley's autobiography, Miles to Go, told MTV, "She's only been alive half an hour. What's she going to say: 'The womb was warm'?"
Miley says the Radiohead dis was a huge disappointment to her, "I was so upset."
But Coldplay exceeded her expectations. "Coldplay was so nice. Chris Martin hung out with me the whole time," she gloated.
Comments
comments