American Idol winner, David Cook, has said that he would like to get into acting while he was doing a CD signing a the Hard Rock Cafe at Universal CityWalk in Los Angeles.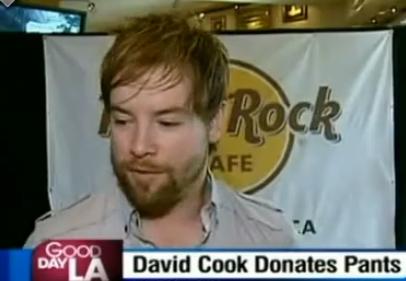 If he's looking to do some acting, "I would love to," season seven winner David Cook, 26, told us at his CD signing at the Hard Rock Cafe at Universal CityWalk in L.A. when we asked if he wants to get into the movies. "It's another kind of way to be creative, so I'm very on board for that."
On replacing Paula Abdul at the Idol judges' table, "Nobody can replace her," Cook said. "I don't think anybody should try. What made Paula work and what makes all the judges work is that they are their own people."
Don't expect Cook to pull a Victoria Beckham and guest-judge on the upcoming season. He said: "After being critiqued, I don't know if I can do that to someone."
David also donated some pants to the Hard Rock (I love going to the different Hard Rock Cafe's around the world and seeing all of the memorabilia so it's cool that he did this!).
Comments
comments