The week after he won American Idol last May, David Cook placed no fewer than eleven songs on the US singles chart – the highest number of concurrent hit singles since the Beatles racked up 14 in 1964.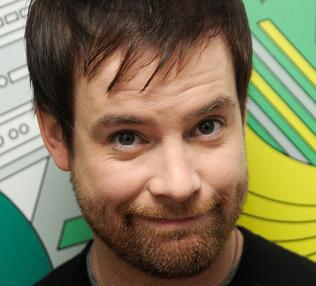 Since then he's released a platinum-selling debut album – the lion's share of which he co-wrote – and embarked on his first headlining tour of the US. As he releases his album over here, we gave David a call to find out how he's taking to life as a popstar.
How's the tour going?
"Great! We're playing dates at universities in the States right now, but we're looking to extend the tour and hopefully get over to you guys before too long."
Have your female fans been quite vocal? One fan wrote on your messageboard: "David Cook's so gorgeous he makes me feel physically sick."
"Haha! Well, I know we draw a primarily female fanbase right now and that sort of attention is always nice and very flattering. But I'm hoping we can keep putting out music that brings in everybody – that's the aim."
What do you do after your show? Do you party?
"You know, we have a good time. I wouldn't necessarily call it partying but we relax and have a few drinks and keep it pretty chilled. I'm probably the least seasoned of the bunch when it comes to drinking actually. Because of my voice I normally have to try to be a little bit responsible."
You've written nearly every song on your album, which is quite rare for an Idol star's debut. Did you have to fight for that privilege?
"Surprisingly, no. I think [my label] RCA really put their trust in me from the start and let me do my own thing. Having that kind of investment in the record makes it that much easier for me to get behind the songs live, which hopefully brings more people in. I mean, if I can't believe in the music, how can I expect anyone else to?"
How would you describe the album?
"I think each song has its own personality, which gives it a little bit of an eclectic vibe. But as a record there's definitely some flow to it, and I think those two juxtapose each other nicely."
Are you nervous about how the album's going to be received over here? Idol stars have a mixed record in the UK.
"I'm not really nervous at all – if it's meant to be, it will be. I'm just excited to get out that way and play to British audiences. Hopefully I'll be received well enough over there to warrant continuing to come back. That's my ultimate goal."
Have you been watching this year's American Idol at all?
"A little bit – I've caught enough not to be completely ignorant. Around the time of the auditions we were going through tour rehearsals so I didn't get a chance to watch as much as I would like. There's lots of talent this year, but I don't feel like anyone's really had the opportunity to break away from the pack yet."
Is it weird watching now having been on the inside last year?
"Kind of. I have a different level of empathy for everybody because it's definitely a stressful situation. It's interesting to see who rises to the occasion and who cracks under the pressure."
Have you been in touch with any of the judges since the show?
"Not really. I see them at functions every now and again and we always catch up. Actually it's cool now because they're not really judges to me anymore. I mean, it's a lot nicer dealing with Simon when I know he's not going to critique me!"
What do you talk about if you bump into him at a function?
"Well, Simon met my family when I was on the show so he normally asks about them and we chat about what we've both been up to. He was very nice to my family when he met them – though maybe they were thrown off by the British charm, I'm not sure!"
How do you think Kara's settling in?
"I've been really impressed with her. I got a chance to write with her over the summer and she has an amazing musical aptitude. I really appreciate that and enjoy watching her use it on the show. I think she raises the bar for everybody which is cool."
Finally, if you could record a duet with any singer, who would it be?
"I've been asked that a few times and one name continuously pops up for me. I wouldn't even necessarily want to work with him because I'm afraid I would fall over myself, but just to sit in a room and watch Paul McCartney work would be amazing."
Could you ever see yourself doing something with Kelly Clarkson? Obviously there's the Idol connection, but it could work vocally too.
"I would welcome it – I think Kelly's an amazing performer and she obviously has a stellar voice. I'd take a lot of education away from working with her, I'm sure!"
David Cook's self-titled debut album is out now.
Meanwhile, adding his alma mater to a nationwide tour that focuses on small venues on college campuses, 2008 American Idol winner David Cook will perform at the University of Central Missouri Tuesday, April 28.
Singer-songwriter Ryan Star is joining him for the concert that begins at 7:30 p.m. in Hendricks Hall.
Comments
comments