Excitement is building at Davis & Elkins College as the campus prepares to host "American Idol" winner David Cook on March 14.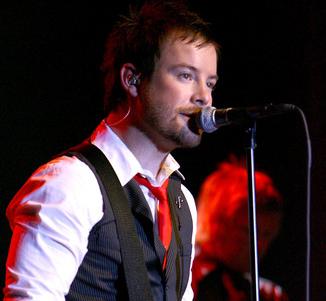 Dean of Students and Campus Activities Board Adviser Scott Goddard explained that it's not every day the college and area hosts big names in music.
A sign of Cook's popularity is how quickly the D&E show sold out, Goddard said.
Goddard expects Cook to arrive in Elkins around noon today and follow a strict schedule until the concert begins and does not necessarily expect to see the headliner until he takes the stage.
D&E students, particularly members of CAB, will be able to attend a meet and greet session with Cook, according to Goddard.
CAB board members worked to bring Cook to campus and will assist in the stage set-up, Goddard said.
Cook will be preceded by opening act, Ryan Star. Goddard described Star as an emerging artist who is introducing his music to new audiences.
The sold-out show will have security and student ambassadors greeting ticket holders. Concert goers arriving on campus should look for security to direct them where to park and answer questions.
The Harper McNeeley Auditorium doors will open at 7 p.m. with the show beginning at 8 p.m.
Meanwhile, on Friday, the Events Center at the Seneca Niagara Casino was stuffed to capacity with the Cook crew, and yes, most of them were female. Cook and his band played a set that clocked in a bit shy of 75 minutes, packed it with songs from Cook's self-titled, platinum-selling debut album, and left the enthused audience happy, by all appearances.
Cook was affable, charming, funny and in good, strong voice. His bandmates are compatriots from his pre-"Idol" days.
Opening with the anthemic "Heroes," from the debut full-length, Cook and company drove home a few salient points within the first 90 seconds of the show. First, they're tight as all get-out, and clearly are worthy of the spotlight glare—if professional, convincing performance is accepted as the primary criteria.
Second, sadly, they're playing a brand of mildly soul-inflected hard rock that was already wearing thin back in, oh, say 1998. No one in attendance seemed to notice this fact, and if they did, they didn't give evidence of caring. Cook is a good singer, seems like a super nice guy, and has been loyal to his prefame posse —admirable qualities, all.
As a songwriter, however—even acknowledging the fact that, for his album, he worked with some of L. A.'s finest in that department—he is firmly pedestrian.
Collective Soul's "The World I Know" stood out as the finest composition of the evening.
Whether it was a gritty burner in the form of the pre-"Idol" piece, "We're Only Honest When We're Sleeping," or the straight-up, alternative rock power ballad, "Mr. Sensitive"— the latter co-written with Our Lady Peace singer Raine Maida— Cook and his band struck a nerve with the crowd, without giving much evidence of having to work too hard at it.
Cook nailed his most demanding parts — the coda section of "Permanent" was particularly inspired — and knew how to seduce the crowd with his gruff, dramatic tenor.
The evening's standout performance came courtesy of Cook's strongest composition, "Life On the Moon," which benefited from some nicely placed guitar arpeggios and a grandiose arrangement that recalled two bands clearly inspirational to Cook — Our Lady Peace and Switchfoot.
Based on its contributions to popular music to date and its disingenuous karaoke-as-art format, "American Idol" stinks to high heaven. "Instant rock star — just add television" — could justly be its mantra.
But, like global warming and economic disarray, it's here, and we have to deal with it.
Cook is probably the most authentic musician "American Idol" has yet produced, and the one most likely to say something worth hearing, artistically speaking, outside of "Idol".
Unfortunately, that's not saying much. Still, Cook and his band have a leg up on the competition. There is energy and passion in the music, and skill in its live presentation.
Hopefully, the quality of the material will catch up to its in-concert guise, given time.
Comments
comments