Lindsay Lohan's attorney says an arrest warrant issued for the actress Friday and stemming from a 2007 DUI conviction was "born out of a misunderstanding."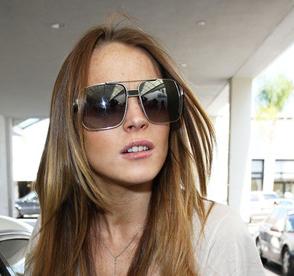 "Since her case was resolved, Ms. Lohan has been in compliance with all the terms and conditions of her probation and all orders of the court," her lawyer Shawn Chapman Holley said in a statement Saturday, referring to Lohan's 2007 conviction for driving under the influence. "The warrant issued on Friday was, in our view, born out of a misunderstanding which I am confident I can clear up next week."
A hearing for Lohan is set for Monday morning in a Beverly Hills court. "The judge apparently has indicated that Ms. Lohan should be in attendance," said L.A. DA spokeswoman Sandi Gibbons. Lohan, 22, is currently serving a three-year probation term for the DUI incident, the actress's second.
"We are not actively looking for Ms. Lohan at this time," Beverly Hills Police Lt. Mark Rosen said at a Saturday press conference. "We are not anticipating her surrender this weekend. But if she comes in contact with police, she's subject to arrest. As for why we're not actively looking for her, that's not our procedure for this type of warrant. Her attorney is hoping to resolve this issue in the coming week. If it's not resolved, I'm sure we'll negotiate her voluntary surrender."
Lohan's latest legal woe followed a night of partying that included dinner with pals at the Chateau Marmont – and a bizarre late-night visit to the Hollywood home of actor Jack Nicholson.
Lohan's Friday night at the Chateau began around 8 p.m. Arriving with three female friends, and clad in a loose black top adorned with sequins, she was in an upbeat mood during dinner at a patio table at the West Hollywood hotspot, witnesses say. Lohan laughed, chatted and texted on her phone. The actress dined on soup and opted for water and an unidentified drink in a cocktail glass, while her friends had red wine. The group stayed well past 11.
Around 1:45 a.m., Lohan showed up outside actor Nicholson's house on Mulholland Drive. Witnesses say the actress, accompanied by pals, buzzed the intercom numerous times and grew agitated, asking for "Jack" to open the gate.
The group was eventually let in, and Lohan remained inside until a bodyguard picked her up about 4:30 a.m. (Representatives for Nicholson could not immediately be reached for comment.)
Lohan's bodyguard then brought her to Sam Ronson's house, where Ronson showed up at around 11:30 a.m. Later in the day, a loud disturbance was heard at the house, including the sound of a breaking window. Police cars arrived at the house shortly afterward.
Comments
comments