David Cook and Sarah Roemer are snapped standing close to each other in a romantic scene for "Come Back to Me" music video.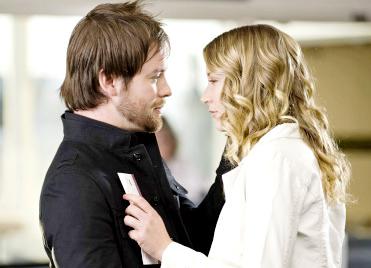 Several photos of David Cook and Sarah Roemer landing the parts as a couple in his upcoming music video for "Come Back to Me", the third single off his self-titled studio album, have arrived. Standing close to Sarah, David is captured looking her in the eyes, putting his right hand on her waist and touching her cheek with his left hand.
"Come Back to Me" music video is directed by Gavin Bowden, the same man who helmed Red Hot Chili Peppers, Lifehouse and Jason Mraz's videos. It was filmed at LAX airport in Los Angeles on Thursday, March 5.
David Cook's eponymous major-label debut album has been released since November 2008. Produced by Rob Cavallo, it debuted at the third spot on Billboard Hot 200 and was certified Platinum by RIAA for selling more than 1,000,000 copies in the beginning of February.
Pictures of David Cook shooting "Come Back to Me" music video with Sarah Roemer showed that the "American Idol" Season 7 winner is seen getting ready for his first on-screen kiss. Actress Sarah Roemer plays David's love interest in the music video. Sarah starred as the love interest of Shia LaBeouf's character in 2007's film, "Disturbia".
"Come Back to Me" is the follow up single to "Light On" off David Cook's self-titled album. The track will hit radio next month. .