Last year's American Idol winner David Cook, who previously released an album, found peace and perspective in the middle of all the American Idol craziness with the help of girlfriend Kimberly Caldwell.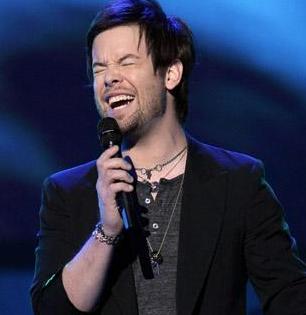 The "American Idol" champ revealed at the Do the Wright Thing Gala at the Hard Rock Café in New York last week: "I think she just gets that this is all nuts. She's a nice break from the chaos."
Kimberly Caldwell can relate to what he's going through: She finished in seventh place on season two of Idol and also has a budding singing career of her own, having released two singles earlier this year.
When asked if they like to do duets. David Cook answered: "No, we don't."
With the release of his self-titled debut album on Tuesday, David Cook has performance plans for the big day, but keeps his mind open about the future.
He added: "I'm going to celebrate by playing here at Hard Rock. So I'll be busy getting ready to play. … But hopefully this is just the beginning of a very busy year for me, so I'm just ready to move on."
Comments
comments