Demi Lovato has rejected the idea of her dating "Twilight" hunk Taylor Lautner. She spoke up about the matter during the premiere of Miley Cyrus' movie "Hannah Montana: The Movie" last week.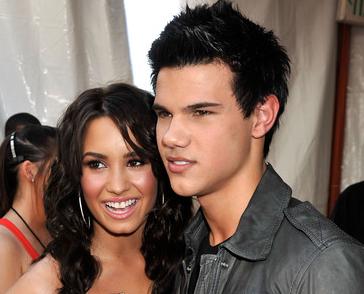 "Hold please, oh God. No, thank you! He is not for me," Demi tells Twist of Taylor, whom she first met at 2009 Nickelodeon's Kids' Choice Awards on March 28. "He seems more like a heartthrob type. I am more of a musician girl. He would have to rough up a little bit for me to date him!"
Previously, the 16-year-old cutie updated her Twitter page, telling fans about a song which she has just finished. Demi said the song is about one "orange, egotistical, young Hollywood actor, who thinks he's the new heartthrob in town".
However, the "Camp Rock" star claimed the Hollywood actor whom she meant isn't the "High School Musical" heartthrob Zac Efron. "NOO it's not Zac. Zac's a sweetheart. I'm not saying who. Just wanted to let you guys know what my song is about," she testified.
Last month, Demi Lovato spent her weekend by having a trip to the Bahamas. She looked very happy hanging out at Atlantis resort in Paradise Island and posing with water creatures, including sea lions and dolphins.
Comments
comments