Demi Lovato, who has debut album "Don't Forget" on September 23, was spotted while doing a photo shoot for Entertainment Weekly in Lower East Side, New York City, on Wednesday, September 3.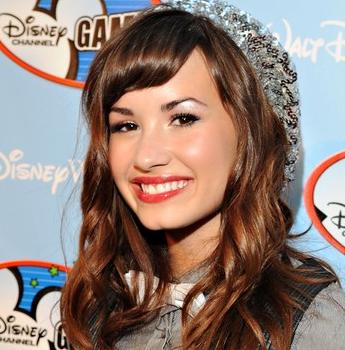 The Disney star who was wearing black leggings with a long sleeve black top with "OFF THE DEEP END" emblazoned in the front, layered with a cropped sleeve black jacket with black and white square pieced front.
The teen star accessorized with red platform booties and a black leather bracelet in her left arm. Her wavy long hair was left open in a tangled look with her long bangs covering the right side of her forehead.
Demi Lovato has been promoting her album through some good humored YouTube videos. provides the opening for the Jonas Brothers on their currently underway Burning Up Tour, which is on its last leg. The Jonas Brothers helped her write 11 songs on the album, which includes a duet with them.
Demi Lovato revealed: "I tend to write songs that are, I guess, a little bit more intense and less catchy, and I needed help writing catchy songs. So that's where they came in. I put a lot of my musical input and lyrics into these songs, and they just helped me with hooks and stuff like that."
She has kept the first album light but suggests her sophomore LP could be different, adding: "I used to write [really dark] songs every night in my room — like, five or six a night — and I'd be up until 5 in the morning, and my mom would come up and say, 'So what are you writing?'"
She also revealed: "I'd play her a song, and she'd go, 'Wow — go to therapy.' But it really is therapy for me, so I put everything in my lyrics. You won't necessarily find a lot of that on the album, but hopefully you will on the next album. It's my first one, so I wanted it to be fun — stuff you can drive around in your car to and jam out to."
Comments
comments