Alaska Gov. Sarah Palin, who was a Republican vice presidential hopeful, claimed her historic spot on the Republican ticket Wednesday night as she slashed attack on Barack Obama and promised to help presidential candidate John McCain bring real change to Washington.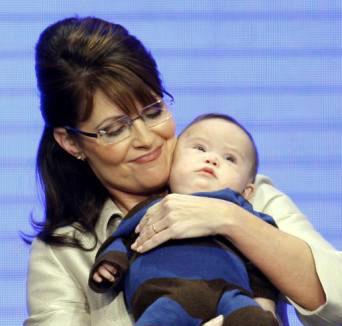 On her remarks of Obama, she declared: "Victory in Iraq is finally in sight; he wants to forfeit. Al-Qaida terrorists still plot to inflict catastrophic harm on America; he's worried that someone won't read them their rights."
The 44-year-old politician had top billing on the third night of the convention. The first woman vice presidential candidate in party history, she spoke to uncounted millions of viewers at home in her solo national debut.
John McCain strolled unexpectedly onto the convention stage after the speech and hugged his running mate. He praised Sarah Palin, saying: "Don't you think we made the right choice" for vice president? he said as his delegates roared their approval.
The packed convention hall exploded in cheers as McCain stood with Palin and her family – including mother-to-be Bristol and the father, 18-year-old Levi Johnston.
The audience also shouted in agreement at line after line delivered by the 44-year-old Alaska governor, the first woman ever named to a Republican national ticket.
She had top billing at the convention on a night delegates also lined up for a noisy roll call of the states to deliver their presidential nomination to McCain. At 72, the Arizona senator is the oldest first-time nominee in history, collecting his party's top prize after pursuing it for the better part of a decade.
Sarah Palin drew cheers from the moment she stepped onto the convention stage, hundreds of camera flashes reflecting off her glasses.
If John McCain and his campaign's high command had any doubt about her ability at the convention podium, they needn't have. With her youthful experience as a sportscaster and time spent in the governor's office, her timing was flawless, her appeal to the crowd obvious.
Sarah continued: "Our family has the same ups and downs as any other, the same challenges and the same joys."
Her solo speech includes her career from the local PTA to the governor's office, comparing herself as a maverick in the McCain mold, and seemed to delight in poking fun at her critics and her ticketmate's political rivals.
According to her speech, she had taken on the oil industry, brought the state budget into surplus and vetoed nearly one-half billion dollars in wasteful spending since taking office as governor of Alaska. She revealed: "I thought we could muddle through without the governor's personal chef – although I've got to admit that sometimes my kids sure miss her."
She also took the opportunity to make barbs at Democratic presidential candidate Barack Obama, saying: "I guess a small-town mayor is sort of like a `community organizer,' except that you have actual responsibilities."
On her remark about Obama's springtime observation about some frustrated working-class Americans, she added: "I might add that in small towns we don't quite know what to make of a candidate who lavishes praise on working people when they are listening and then talks about how bitterly they cling to their religion and guns when those people aren't."
Sarah Palin did not forget her running mate John McCain as she declared: "Take the maverick out of the Senate. Put him in the White House. He's a man who's there to serve his country, and not just his party. In politics, there are some candidates who use change to promote their careers," she said in another cutting reference to Obama's campaign theme. "And then there are those, like John McCain, who use their careers to promote change."
On the news media, which have raised convention week questions about her background and her family, she swiped: "Here's little news flash for all those reporters and commentators: I'm not going to Washington to seek their good opinion – I'm going to Washington to serve the people of this country."
Comments
comments