Jessica Alba, who tried effective regime to shed off her excess weight after having a baby daughter,
is back to her sexy best as she graces the front over of Czech Esquire.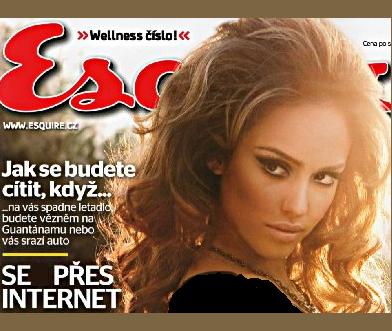 The "Fantastic Four" actress only gave birth just under three months ago but surprisingly she looks in tip-top shape once again.
Along with hubby Cash Warren, she took baby Honor on her first family trip recently, attending the Democratic National Convention in Denver to show her support for Presidential candidate Barack Obama.
It appears that the actress had a few worries about taking her baby on an aeroplane as she expressed her thoughts on her blog: "It's always nerve-racking for new parents to fly with their child because you never know if you're going to ruin everyone else's flight with a screaming baby. (To date, Honor has been a great baby. Rarely crying. Opting to express herself through simple Haiku's or interpretive dance instead – yeah right. My girl's got opinions. lol)."
Meanwhile, Jessica Alba was among several celebrities who hit up the red carped the Voto Latino event dedicated to the DNC. Jessica was joined by J.Lo, Rosario Dawson, Sofia Vergara, Fat Joe and Wilmer Valderrama, all who stopped and talked to the crowd and posed for pictures on their way into the club.
In a quick interview, the actress said: "I am so happy to support Barack. I adore his way, I love how human he is, he gives us hope, I feel like we can relate to him, and the first step to making a difference or any kind of change in the way that our country is being ran is by getting out and voting."
Comments
comments