Denise Van Outen had finally shared her diet secrets to make sure your body's beach ready and totally gorgeous.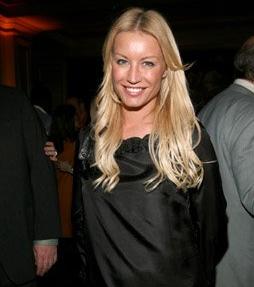 The "I'd Do Anything" star, which has a perfect size 10 figure flat tummy and glowing skin as you could see here, revealed that she has never looked better.
She revealed, "I'm happy with my body and feel confident about getting into a bikini this summer. Like any woman, there are things that bother me. I could do with losing some weight from the tops of my legs and if I overindulge I do get a bulging tummy."
The exercise regime, which was suited for Denise's hectic schedule, was consisted of power foods like porridge for breakfast, high protein meals of fish and plenty of fresh fruit and vegetables, as well as doing regular exercise with personal trainer to the stars, Nicki Waterman.
Her personal trainer revealed, "Denise is looking fantastic at the moment, but she's absolutely knackered because she has such early morning starts. The good news is that we don't do long cardio workouts – we just do short bursts of cardio for 20 minutes each time. That way, you can always squeeze in some exercise and don't get bored easily."
The radio presenter is also in training for a 10k run in July but she does allow herself a few treats.
She revealed, "I have Sundays off. That's when my boyfriend Lee and I will go and have a roast with all the trimmings. I have a glass of red wine, dessert or a latte if I fancy it.
She added, "For the rest of the week, my diet diet's healthy. I don't crave stodge or treats because I let myself eat what I fancy on Sundays."
Comments
comments