Obie Wilchcombe, a former Minister of Tourism in the Bahamas and a close friend of John Travolta and his family, says he has not been charged for any crime and was only trying to help.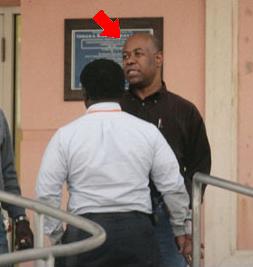 Wilchcome revealed: "I did a noble thing."
Wilchcome was taken into police custody on Friday, January 23, in an alleged attempt to extort $20 million from John Travolta over the death of this son. He has since been released.
Also arrested on Friday was Tarino Lightbourne, the ambulance driver who drove Jett Travolta to the hospital.
Sen. Pleasant Bridgewater, an attorney from Grand Bahama, is under detention for questioning since Thursday.
Wilchcombe says Bridgewater alerted him that "someone was doing something untowards" and he passed this information to Travolta's lawyers, Michael Ossi and Michael McDermott.
"She knew I was close to the Travoltas. She wanted to bring something to my attention," he explained.
Wilchcombe says the police on questioning focused on the information he passed on to the lawyers. He never sought any compensation from the Travoltas.
"Never once, asking for anything! Never once, expecting anything! This is ridiculous and absurd. The Travoltas are suffering, it's just outright foolish. Never did I ask for anything, no one can say that. We had a friend in my country who lost a son. It was one single individual [who tried to take advantage of the family], the Bahamian people have been very kind to the Travoltas."
Comments
comments