Angelina Jolie and Brad Pitt praised each other on the red carpet at Sunday's Screen Actors Guild Awards in Los Angeles.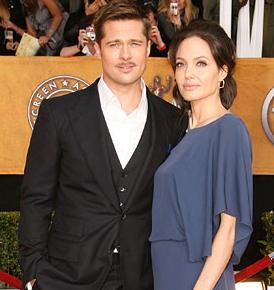 Asked if she likes having Pitt as her date at award shows, Angelina Jolie revealed: "We've been doing it together for four years – it's always nice. I don't think I'd want to be doing it alone. It's nice to be doing it with your best friend … and have a laugh in the middle of the show."
The actress declined to answer a question about how Brad Pitt has changed her, but she said that "he's a wonderful man … the person I admire the most in the world. I think he is extraordinary."
She wore a Max Azria dress, Tiffany earrings and ring and Christian Louboutin shoes.
She said of getting ready: "I just like to be comfortable. I see what comfortable options are out there."
Do the kids help her prep? She answered: "They play, they get their nails done, they run around. Most of the time, they're a bit bored…. They don't find it that interesting."
Brad Pitt did a separate interview. When told by Rancic that Jolie's beauty never gets old, he replied: "No, it never gets old – I am here to testify."
The actor also called Angelina Jolie "amazing … a fantastic mother."
Like Angelina Jolie, he declined to answer a question about how the actress has changed him.
He revealed: "I don't want to get into it. We're happy to be here."
Both are nominated for their leading dramatic roles: Angelina Jolie, for Changeling, and Pitt, for The Curious Case of Benjamin Button.
Comments
comments