Rihanna is reportedly devastated and has high-tailed it to Hawaii after photos allegedly showing the singer in the nude were leaked online late Friday.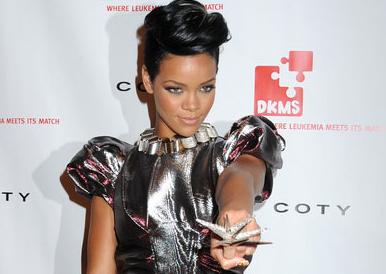 The "Umbrella" hitmaker, 21, is accused of taking seven suggestive snaps of herself in various states of undress in a hotel bathroom mirror. In another of the photos, her accused batterer, R&B singer Chris Brown, also appears, adorned with a pair of pink knickers on top of his head.
"She is freaking out. She was on the road to recovery after a terrible few months," a friend of the 21-year-old blabbed to Britain's News of the World this weekend. "She has no idea how these pictures have been leaked but she's determined to find out."
The pal added, "She's rushed off to Hawaii to escape the scrutiny. She's recording her new album and wants to shut herself in the studio away from the world for a few days."
Meanwhile, Rihanna showed up at the 3rd Annual DKMS Gala in New York City last night donning an enormous silver and diamond spiked ring and wearing a metallic, puffy-sleeved blouse with a slightly puffy skirt.
Comments
comments