Dita Von Teese posed for Playboy magazine for its German edition December 2008 issue but you don't need to be on the continent to see the snaps.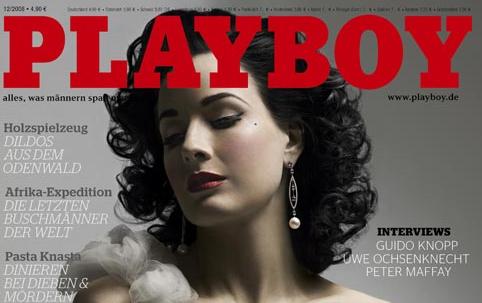 The Burlesque star has posed in nothing but stockings and suspenders for the classy magazine. The magazine describes her as "[email protected] and unapproachable – not an artist sees it as well, men's head to twist: From Teese Dita is a goddess in human form." You could see her pictures in the Playboy website.
The magazine also indicates: "Their facial features so fine and exceptionally as a porcelain doll, fascinated by the men and fashion world. Dita is working hard for their dream run as a model for Jean-Paul Gaultier. And adorns the front pages of many magazines. her story continues. Recently she is the new muse for Cointreau and meanwhile even designed their own underwear collection. Wonderbra by Dita – of course, in the style of the 40s era. What else"
The 36-year-old stunner also posed wearing ill-fitting corset as she lies seductively on a leather sofa. Perhaps she isn't letting the onset of age slow her down – and, on this blistering form.
Comments
comments