The encounter of 24-year-old Prince Harry and Dizzee Rascal was always going to be hard to find.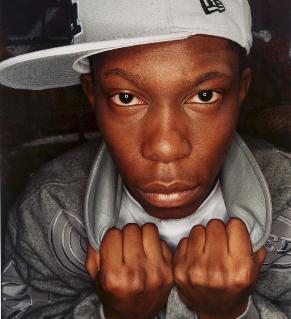 Unfortunately, the prince's attempts to bridge the divide ended in toe-curling embarrassment – and the danger of being punched by the rap star.
Meeting backstage at a music festival, the gaffe-prone prince and his public school friends greeted the musician with an excruciating display of shadow boxing and 'street' handshakes.
A bewildered Dizzee said: 'I never saw that one coming. Prince Harry came in and was joking around and being a bit cheeky, so I told him, "If you weren't royalty I would've
punched you in the face by now", and he seemed to like that.'
Harry, who is apparently a big fan, had asked through a London club promoter acquaintance if he could meet Dizzee.
And it would appear the prince thought some hip hop-inspired moves might help endear him to the star when they met at the Wireless Festival in Hyde Park.
The stunt was reminiscent of his brother William's Ali G impression performed on live television during his gap year in Chile in 2001.
Born on a council estate in Bow, East London, Dizzee was brought by his Ghanaian mother Priscilla, who worked to support them after his Nigerian father died when he was two.
He released his first record at the age of 16 and was criticised by some politicians for glorifying violence.
He shot to fame at the age of 18 with his debut album Boy In Da Corner, which won the 2003 Mercury Prize. It drew heavily on his urban upbringing, with themes of drugs, teenage pregnancy and street violence.
Dizzee nearly died in a stabbing attack in Cyprus the same week his debut record
was released. The singer, whose real name is Dylan Mills, did say Harry was more 'rock and roll' than the average royal.
He said that the prince fitted in well backstage at the festival because he is a 'naughty boy' and even ventured that the prince and his friends were 'probably a bit wilder' than his own crowd.
Comments
comments