Claims by Oliver! star Mark Lester that he could be the biological father of Michael Jackson's children were angrily dismissed by the singer's family yesterday.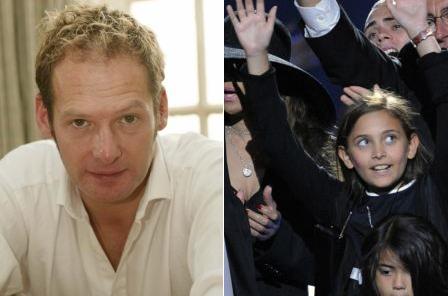 They accused the former child star of a 'genetic lottery attempt' to stake a claim on Jackson's multi-million-pound fortune.
Lester, who made his name in the 1968 film version of the hit musical, had been good friends with Jackson since 1981.
He claims he gave the troubled singer three samples of his sperm because Jackson was desperate to be a father.
Lester is convinced that 11-year-old Paris is his daughter because of the likeness between her and his own daughter Harriet,
15. He also claims he could also be the father of 12-year-old Prince Michael I.
But lawyers for Jackson's mother Katherine – who is caring for Prince, Paris and their brother Prince Michael II, known as Blanket – attacked Lester's claims.
And Jackson's brother Jermaine insisted the children were all fathered by Jackson.
Jackson family lawyer Londell McMillan claimed Lester was simply bidding for 'five seconds of fame'.
Lester is godfather to Prince, Paris and Blanket and is furious that the family have cut him out of their lives since the singer's death on June 25.
The 51-year-old is now an osteopath and lives in Cheltenham with his second wife Lisa and the four children from his first marriage.
He said: "It's been a secret for so long. In 1996 Michael asked me if I would give him my sperm and I said yes. It was a gift to him, no money was paid, it was something I was honored to do. He wanted children so badly."
"With Michael's mother Katherine now their legal guardian it's like the kids are being isolated. Up until Michael's memorial I was in touch with them on a weekly basis."
"I'm the godparent to them and Michael was godparent to all my four kids. Our two families spent a lot of time together, and had a lot fun together."
"Now I'm not able to have any communication with the children. My repeated phone calls aren't returned and emails go unanswered."
He said he would be willing to take a paternity test to prove the allegations.
Lester said that Jackson confided to him that he was desperate to be a father but found relationships difficult.
He was also conscious of his body because he had vitiligo, a skin lightening condition.
Lester said his sperm was taken at a private clinic in Harley Clinic. He did not tell his first wife, Jane, of the plan and it is understood he revealed the truth to his family only in the past few weeks.
He said: "I just did it and put it out of my mind. I don't even know if I was the only person that Michael asked. Michael never mentioned who the artificial insemination would be with. We just never spoke about it again."
Eight months after the donor procedures, in November 1996, Jackson announced he had married Debbie Rowe, a nurse at the skin clinic he attended.
Some three months after that Prince was born. Paris was born in April 1998.
Jackson, 50, is believed to have left his mother and children a £300million fortune.
Although he had debts of around £150million, sales of his old albums and plans to issue unreleased songs are expected to earn his estate vast sums.
If Lester is proven to be the father of the children it could mean that he is entitled to some of the money.
But lawyer Mr McMillan said Lester's claims had 'no merit', and added: "These genetic lottery attempts aren't going anywhere. They have no legal standing."
And Jermaine Jackson said: "People say things just to get attention, but those are definitely Michael's children. You can look at the kids and tell that they are Michael's kids."
Comments
comments