Drew Barrymore shows off the latest fashionable chunky bracelets on the April 2009 cover of Niche Media's Gotham magazine.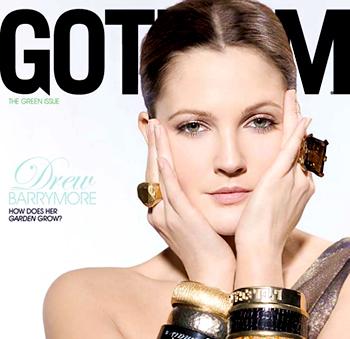 Drew Barrymore gave up her cell phone for three weeks because she was so dedicated to her upcoming HBO movie, Grey Gardens, based on the lives of the eccentric aunt and first cousin of former First Lady Jackie Kennedy Onassis.
The beloved Drew portrays "Little" Edie Bouvier Beale in the feature.
The 34-year-old actress secluded herself for three months to prepare for her emotionally demanding role as "Little Edie" in HBO's upcoming Grey Gardens.
Drew shared; "I didn't speak on the phone or watch television or read the newspaper and BlackBerry or speak to my family or one friend for three months… I felt I had to isolate myself. It was really painful for me not to have contact with the people I love. I felt like it would be fraudulent to talk on a cell phone- 'Like, yeah, I'll call you back in a second'- and walk back on set and pretend I'm this person who wouldn't even know what a cell phone was."
Drew found herself the perfect fit play Little Edie. After all, the former child star has triumphed over life's adversities many times herself: "I try to realize what and who's important. What's important is being good to people I love and earning their respect and being available to them physically and emotionally. That's my biggest and only priority, and the rest of it you just can't control."
Grey Gardens airs April 19 on HBO.
In related news, Drew and her former flame Justin Long will reunite on the silver screen for the upcoming romantic comedy Going the Distance. they will act out a long-distance relationship who come to realize that they both would be happier dating someone closer in proximity.
Comments
comments