Drew Barrymore seems to replace her worn jeans and old t-shirt with Old Hollywood glamor style.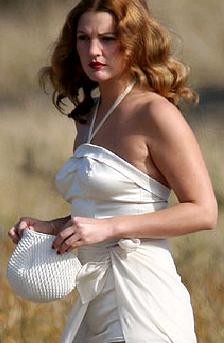 The actress, who got soft curls, lashings and a thigh-skimming playsuit, stepped on set of her new film "Grey Gardens." You could see the actress' picture in the new film role here.
The actress plays the role of Little Edie, the eccentric aunt and first cousin of former First Lady Jackie Kennedy. The film also includes Jessica Lange in the cast.
There are also reports that Drew Barrymore has quietly started dating "He's Just Not That Into You" co-star Justin Long.
Although, the couple has kept silent about the budding romance but Justin Long managed to give a hint at a recent press conference that his love life is on track. The actor revealed, "I've been very fortunate and I just feel very blessed and happy, and I think things are good personally, not professionally, but personally."
Comments
comments